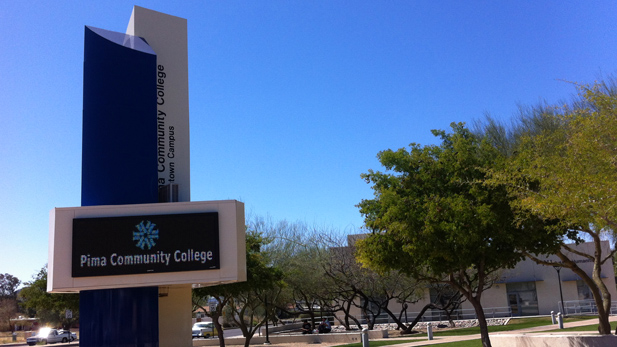 PHOTO: Fernanda Echavarri, AZPM
Pima Community College Downtown Campus.
Pima Community College will begin a series of "brainstorming sessions" to hear from the public about how to better serve the community in the next two years, officials say.
PCC is drafting a new college plan that will detail what the institution will do with academics and facilities, says C.J. Karamargin, a college spokesman. The plan is also in place to "ensure the success of the new chancellor."
"Our college plans do not sit in a desk drawer, gathering dust," Interim Chancellor Suzanne Miles says. "College plans typically contain nearly 200 action items, each with a funding source, responsible party and completion date. If something is in the plan, it will get done, and by participating in the forums, the public's voice will be heard."
Participants will split into small discussion groups and each group will then report to the audience with ideas and suggestions, Karamargin said. College officials will collect information from the public forums and share it with staff and the governing board.
A list of the forums:
Monday, 4:30-6 p.m.
at the Nanini Branch Library, 7300 N. Shannon Road.
Oct. 26, 3:30-5 p.m.
at the Sam Lena Branch Library, 1607 S. Sixth Ave.
Nov. 5, 6-7:30 p.m.
at Wilmot Branch Library, 530 N. Wilmot Road.
Nov. 7, 8-9:30 a.m. 
at Santa Rita High School, 3951 S. Pantano Road.
Nov. 28, 10-11:30 a.m.
at San Miguel High School, 6601 S. San Fernando Road.