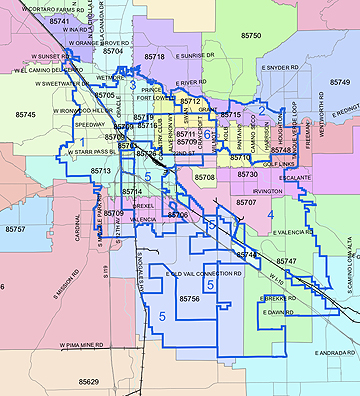 The city of Tucson is redrawing lines for its six political wards that delineate the areas represented by each City Council member.
The council will review two proposed maps of new district boundaries at its 3 p.m. study session Tuesday.
The process of redistricting is the same as it is for legislative and congressional district boundaries. Every 10 years the city must redraw the council wards so they are roughly equal in population.
Each council member appointed one person to the Tucson Redistricting Committee, and the committee came up with the map proposals for the council to consider, says committee chair Matt Kopec.
The biggest change could be to the midtown Ward 6, which is now surrounded by other council wards, Kopec says.
"In one of the options, it goes up to River, River, and it would actually have a border with unincorporated Pima County, and in the other option it does not. So that is the biggest difference if you look at a map," he says.
The proposed redistricting maps move about 40,000 Tucson residents into different wards, less than 10 percent of city residents.