The Arizona Farm Bureau Federation's Market Basket Survey for the third quarter of 2012 shows most food prices decreased. The total cost for 16 basic grocery items was $49.25, down $1.94, or about 4%, from the second quarter of 2012.
A comparative national survey from the American Farm Bureau showed a basket of the same goods cost $51.90, down $1.00 or 2% compared with earlier this year.
Julie Murphree, director of PR for the Arizona Farm Bureau, conducts the Arizona Market Basket Survey four times a year. She found that basic meat and dairy items drove the decline for the third quarter. But she also warns that prices could increase in 2013.
The reason? The drought in the mid-west and its affect on livestock feed prices. Murphree says pork and beef producers are rushing their herds to market to avoid the higher grain prices. She notes that as those increases kick in, prices will start to go up. "We still believe we'll see higher prices in 2013," says Murphree. "And, watch for increases in those food items that today have decreased.
Here are some prices from the Arizona Market Basket Survey for selected grocery items in the third quarter, with changes from the second quarter:
Shredded cheese: $4.06/lb (down $0.81)
Potatoes: $2.45/5-lb bag (down $0.38)
Milk: $2.50/gal (down $0.37)
Chicken breast: $3.55/lb (down $0.29)

Salad mix: $2.89/lb (up $0.22)
Bacon: 4.39/lb (up $0.17)
Vegetable oil: $2.73/32 oz (up $0.15)
Apples: $1.45/lb (up $0.11)
See more prices at the Arizona Farm Bureau's Fill Your Plate site.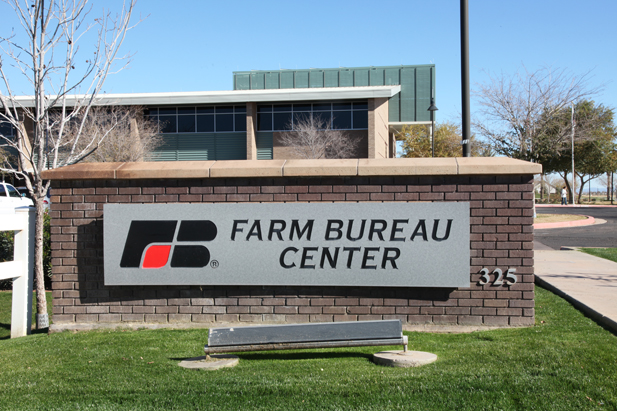 PHOTO: Mark Duggan
The Arizona Farm Bureau offices in Gilbert, AZ