When things go bump in the night, SAGAPS goes to work.
The Southern Arizona Ghost and Paranormal Society is a little like Tucson's version of the Ghostbusters. This trio of investigators—Jim Rundel, Hector Barragan Jr. and Laura Ziegler—spends its spare time in dogged pursuit of the paranormal.
Rundel and Barragan, who have been friends since their freshman year of high school, founded SAGAPS in 2006. They were inspired by reality TV shows about ghost hunting and wanted to try their hand at the techniques the shows depict.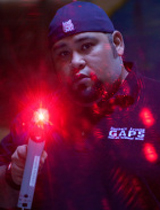 SAGAPS founder Hector Barragan, Jr. sweeps a room with an infrared temperature gauge. (PHOTO: Adam Fleishman)
"We're geeks at heart, so we wanted to get our hands on the equipment and study it and the phenomenon itself," says Barragan, who works for a software company in his non-SAGAPS life. "It's an expensive hobby that turned into a job that doesn't pay."
Soon, Barragan and Rundel found themselves testing their chops in the field, venturing—free of charge—into the creepiest corners they could find to see firsthand whether their techniques would work.
That's where they crossed paths with Ziegler. A former paralegal who now helps administer an assisted living facility, Ziegler has had a lifelong fascination with the paranormal.
Four years ago, she and a friend attended a SAGAPS ghost hunt for fun. She was hooked.
"I couldn't stop thinking about it," she recalls. "So I contacted Hector and he said, 'why don't you come and sit in and see if you like it?'"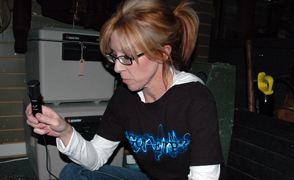 Ziegler uses a "spirit box"--a device that scans radio AM/FM bands to listen for speaking spirits--in a room filled with war relics. (PHOTO: Courtesy of SAGAPS)
Eventually, she joined, bringing her expertise in historical and legal research with her.
Now, Ziegler says, "from the time I get home from work, to the time that I go to work, I spend on SAGAPS."
These days, the team is in demand: they regularly field more than a dozen calls every week, and October is their busiest month. They continue to pride themselves on—and refine—their scientific, skeptical approach to ghost hunting.
So what does that mean for would-be clients? When a case comes in, it goes to Ziegler first, who runs a background check on the inquiring client and then digs into the property's past residents, ownership records and even its geological history.
Then, all three team members review the information and the client's claims.
"Are they hearing voices? Are they actually seeing a manifestation that walks from room to room? We have to know so we can plan our route through the house and our approach," Rundel says.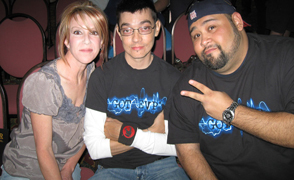 The SAGAPS team--(from left) Laura Ziegler, Jim Rundel and Hector Barragan, Jr.--attends a seminar on the paranormal. (PHOTO: Courtesy of SAGAPS)
They also prepare their equipment, which can vary from case to case but usually includes specially calibrated camcorders, audio recorders, radiation and magnetic field detectors, and a sizeable supply of flashlights. And the team has a ritual—meeting for dinner before any big hunt.
Despite their share of unsettling experiences on the job, Rundel, Barragan and Ziegler remain steadfast skeptics. None of them believes in ghosts.
But despite the demands of their day jobs and their families, they're drawn back, again and again, to the search.
"You should be doing this to try to help other people, to try to answer the questions that haven't been answered yet," Rundel says. "And I guess that's why we keep doing it—to look for those answers. To strive to give people closure."