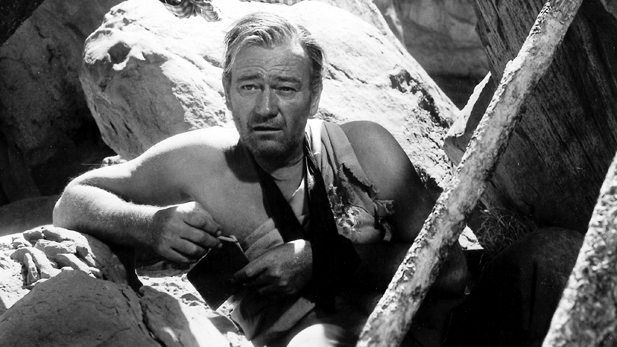 John Wayne, as Ethan Edwards, crouching among rocks after an attack by Comanche warriors.
Confederate veteran Ethan Edwards returns to his brother's home after spending three years away. Shortly after he arrives, a neighbor's cattle are stolen. Ethan joins a group of Texas Rangers to find the livestock. The group discovers the cattle slaughtered and Ethan realizes they were tricked into searching for the animals, leaving the families behind. When the men get home, they find the Edward's homestead in flames; Aaron, his wife Martha and their son Ben are dead. Their daughters Lucy, and younger sister Debbie, have been abducted by the Comanche.
Ethan begins a search for the girls and finds Lucy brutally murdered in a canyon near a Comanche camp. Consumed with hate, Ethan is obsessed with finding her sister. Accompanied by his nephew, the two search for Debbie for five years before they discover what happened to the young girl.
Hollywood at Home presents The Searchers, Saturday at 4 p.m. on PBS 6.