The world's most technologically advanced telescope mirror was just completed at the Steward Observatory Mirror Lab in Tucson. It's the first of seven giant mirrors the lab will create for the Giant Magellan Telescope, or GMT, which is being built in Chile.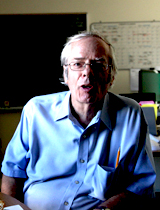 PHOTO: Mark Duggan
Mirror Lab founder Roger Angel in his office.
When it's done, the new telescope could help unlock some of the secrets of distant starts and planets.
"Today we're just able to see the very brightest planets around other stars," says Mirror Lab founder Roger Angel. "With the Giant Magellan Telescope, we should really be able to see lots of them."
The GMT's seven mirrors will operate together to create a single optical surface 82 feet in diameter. Upon completion in about a decade, the telescope will have ten times more resolving power than the Hubble Telescope.
Mark Duggan spent some time with Angel recently, to learn more about the GMT's potential and the science of building complex mirrors. About half of the world's major telescope mirrors are built at the Mirror Lab.
Angel says the lab is also working on solar mirrors, which aren't nearly as complex as telescope optics.
The first GMT mirror, known as GMT1, is 8.4 meters (27 feet) in diameter and weighs 20 tons. The lab continues work on two other GMT mirrors. GMT2 is nearly ready for polishing and workers are creating the mold for GMT3.
Learn more about Arizona astronomy, at our Collecting Light story collection.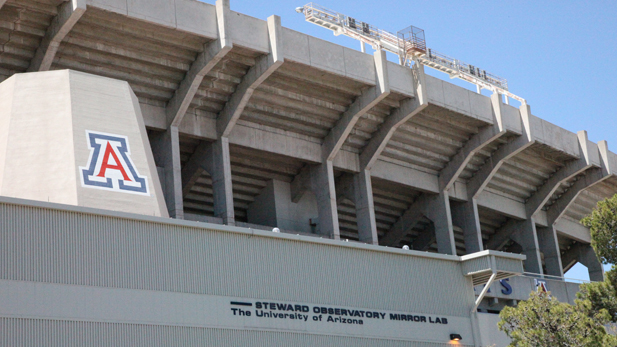 PHOTO: Mark Duggan
The Steward Observatory Mirror Lab creates the world's largest and most complex telescope optics from a facility underneath the east stands of Arizona Stadium.