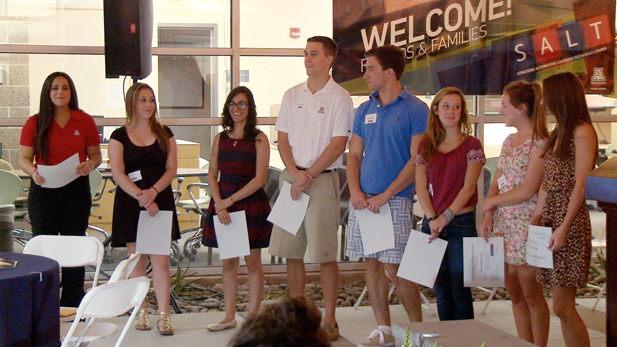 Students at the University of Arizona SALT Center were nominated for and received Outstanding Upperclassmen and Lowerclassmen Awards. The SALT Center provides services for students with learning and attention challenges. Interim Director Rudy Molina says the program is designed to be comprehensive and holistic.
The SALT Center places emphasis on the self-advocacy and students' growth, and de-emphasizes the students' label or diagnosis, explains Molina. He says the SALT Center often finds best practices in the field of learning differences and learning challenges that are ultimately good for all learners.
SALT students are assisted weekly with educational planning by a strategic learning specialist, whom Elementary Education senior Nicole Vizas likens to "a second parent". Animal Science sophomore Vanessa Luois says her strategic learning specialist helps her with time management, and keeps her on track for earning her degree.
SALT students can receive unlimited tutoring at the SALT Center for each of their classes. They can sign up for workshops on topics such as study skills and time management. A psychologist intern is on staff.
Physics and Astronomy junior, CT Smith, says speaking with the SALT psychologist intern regularly has helped him deal with stress and frustration that arises from the difficulties in his coursework, and has helped him accept his learning challenges as a part of who he is.
All three of these students were nominated for or received SALT Center Awards at the ceremony, after having overcome many academic challenges. Nicole Vizas said it was the first time she had received an academic award.
Unlike free, federally mandated accommodations for students with disabilities administered by the Disability Resource Center at the U of A, the SALT Center has an admissions process and charges tuition, which is offset for some students by scholarships.
In October 2012, alongside the student award ceremony, The SALT Center celebrated a dedication of the Patricia A. Bartlett building, commemorating from the Bartlett family's gift of 2 million dollars. Their son, Ben Bartlett, is an alumnus of the SALT Center.
Watch to find out what a few SALT Center students have overcome to achieve academic recognition. This UA+ segment has been closed captioned. Click the CC button on the bottom right corner of the video.
Producer: Heather Wodrich | Videographers: Santiago Bahti, Jon Dineyazhe | Editor: Lauren Bays