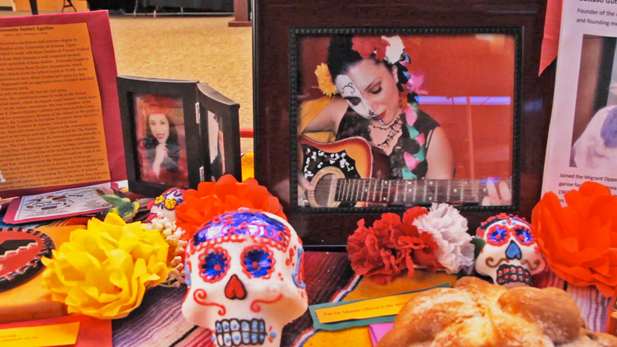 Mexican American Studies students built this altar in remembrance of alumna Consuelo Aguilar, who died of cancer in 2009.
Sugar skulls, pan de muerto, and papel picado are all found on altars in traditional Día de los Muertos or "Day of the Dead" celebrations. Students, faculty, and community members gathered on November 1st in the University of Arizona Bookstore to build traditional altars, as well as altars remembering local Chicano/Chicana figures who have passed on.
According to Ph.D. candidate Kathryn Ortiz, Día de los Muertos is increasingly celebrated by people in the United States. She says the celebration originated more than 3,800 years ago, most likely around the region that is now the Mexican state of Oaxaca.
Ortiz says it is important to know that Day of the Dead is not a Mexican version of Halloween. She says, "it is about honoring our ancestors, honoring the people that gave us life, who have been a positive influence in our lives".
The event was co-sponsored by the Confluencenter for Creative Inquiry, and featured altars built by members of two Mexican American Studies classes, both taught by Assistant Professor of Mexican American Studies, Dr. Roberto (Dr. Cintli) Rodriguez.
Watch for the story of a young Chicana activist and UA alumna who passed away in 2009 from cancer, as remembered by her parents.
Producer: Heather Wodrich | Videographer: Heather Wodrich | Editors: Lauren Bays, Yashmine Anderson