Democratic incumbent Ron Barber saw a little daylight in his race against Republican challenger Martha McSally Thursday for Arizona's 2nd Congressional District seat.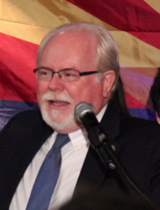 U.S. Rep. Ron Barber, D-Ariz.
The latest numbers from the Arizona Secretary of State's office, posted about 1:30 p.m. Thursday, showed Barber with 139,993 votes to McSally's 139,070, a margin of 923.
That's the biggest lead Barber has had in the counting, which early on swung in McSally's favor. Barber has nibbled away at it as more votes from Democratic-leaning Pima County were tallied.
Pima was expected by Friday to complete verifying ballots from among more than 20,000 provisional votes remaining. Counting them could continue into next week. All votes in Cochise County, which is heavily Republican and favored McSally, have been counted.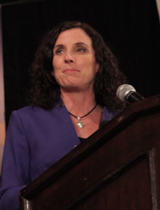 PHOTO: AZPM
Congressional candidate Martha McSally.
Neither candidate has claimed victory or made a concession. Both have said they want to wait until all votes are counted.
State law requires a recount for any race in which the candidates' vote totals are within one-tenth of one percentage point. There is no other provision for a recount, secretary of state spokesman Matt Roberts said.
The latest count showed Barber more than three-tenths of one percentage point ahead of McSally.
Barber was elected to the Congressional District 8 seat in June, replacing Gabrielle Giffords, who resigned after being shot in the head on Jan. 8, 2011. Barber, who had been Giffords' Tucson district office director, also was shot in that incident, in which six people were killed.
McSally, a retired Air Force fighter pilot, ran in the GOP primary for CD 8 last spring but lost in a four-way race to Jesse Kelly. Kelly subsequently lost to Barber in the June special election and decided not to run in the November general election for the newly drawn CD 2. McSally won that GOP primary.