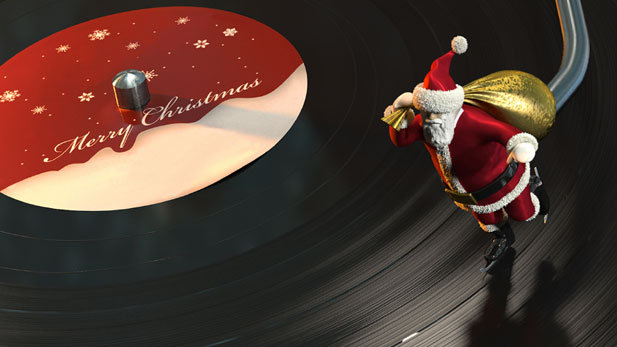 December 31, 2009 New Year's Eve
7:00 PM - Toast of the Nation New Year's Eve -- a holiday special for your party.
Raise a glass with listeners coast to coast and revelers at five live-jazz locations across the continent. After midnights in New York and the Twin Cities, our West Coast artists give a Happy New Year shout-out to Mountain Timers. Then an hour later it's "Auld Lang Syne" (or something hipper) in Pacific Time, with a "here's to Alaska and Hawaii" in advance of their midnight hours. Hosted by NPR's Lisa Simeone.
Toast of the Nation features live music all night
7:00 PM Three highlights from the 2009 jazz festival at Newport
7:30 PM LIVE – John Pizzarelli's "Dear Mr. Sinatra" at the Kennedy Center in Washington, DC Guitarist, singer and radio host Pizzarelli used to open for Frank and remembers that he "would appear in the wings during our final number, swinging and clapping and smiling. He would come onstage and cheer for us." We'll cheer John and his eight-piece band playing songs that were written for Sinatra and more.
9:00 PM LIVE with EST midnight – The Bad Plus at the Village Vanguard in New York Power jazz with tremendous chops meets indie rock in the acoustic trio of Reid Anderson, Ethan Iverson and David King. The outcome can be very beautiful, also very funny. This is The Bad Plus's second New Year's Eve at the legendary club. WBGO's Josh Jackson hosts.
10:15 PM LIVE with CST midnight – Irvin Mayfield Quintet at the Dakota Jazz Club & Restaurant in Minneapolis The young trumpet star and cofounder of Los Hombres Calientes and the New Orleans Jazz Orchestra is also the Minnesota Orchestra's first Artistic Director of Jazz. Produced with technical support from American Public Media.
10:30 PM: LIVE with MST and PST midnights – Big Bad Voodoo Daddy from L.A.'s Walt Disney Concert Hall Dance to songs from BBVD's How Big Can You Get? A Tribute to Cab Calloway, a high-voltage jolt of feel-good energy for a country slogging through tough times. "This is the best and most ferocious we've ever sounded," says the band. Also, a selection or two from the BBVD Christmas record, and all the favorites. Toni Randolph of Minnesota Public Radio News hosts.
1:30 AM Reprise! Steve Turre & Sanctified Shells from Yoshi's in Oakland, New Year's Eve 1999
2:00 AM Anat Cohen at Berklee Performance Center in Boston. Hosted by WGBH's Eric Jackson and produced by WGBH Radio/Boston. In 2009, ASCAP named Anat to the Jazz Wall of Fame, and the Jazz Journalists Association cited her as Clarinetist of the Year. Anat follows her muse from "Struttin' with Some Barbecue" and "Jitterbug Waltz" to Cuba, Argentina and Brazil. She's been on JazzSet with her Anzic Orchestra, on Live at the Village Vanguard with her quartet, and on Piano Jazz in a duo with Marian McPartland.