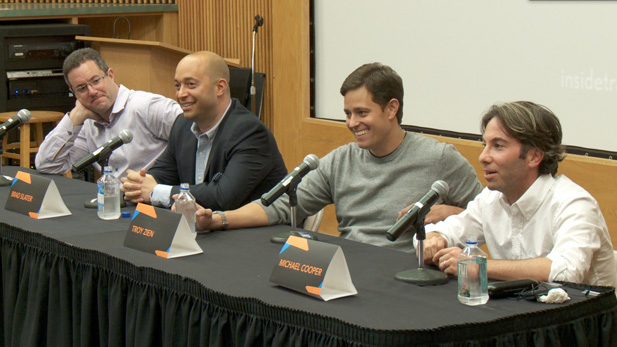 Hollywood agents and managers give advice and reminisce on their days at the U of A.
Kathleen Cannon has been passionate about acting since high school. She is an Acting Junior in the University of Arizona's School of Theater, Film and Television. After graduating she hopes to live bi-coastally in New York and Los Angeles to start her acting career in film.
Shawn Amabile has an eye for talent. In high school, the New Jersey native accompanied his best friend on her acting auditions in New York, and later decided that he wanted to be in the entertainment industry as an agent, manager, or casting director. He is a Junior in the Theater, Film and Television's BA program.

These two students have questions on where to begin in their careers.

The University of Arizona's Hanson Film Institute in collaboration with the Tucson Film Office and Visitor's Bureau held the fall Inside Track Panel on October 26th, 2012.
The panel was made up of four Hollywood managers and agents with client lists that include names like Robert Downey Jr., Michael Fassbender, Josh Brolin, and The Rock, and have worked for some of the top talent agencies. The panelists are all U of A alumni, and they came back to Tucson to talk about their careers, and answer students' questions.
Cannon says these panel discussions are very helpful, and she felt encouraged by the panelists to follow her passion.
Watch to find out what the managers and agents had to say.
Producer: Heather Wodrich | Videographers: Heather Wodrich | Editors: Lauren Bays