State wildlife officials recently completed an annual survey of an endangered squirrel that calls a small part of eastern Arizona home. The survey of the Mount Graham Red Squirrel shows their population is holding relatively steady.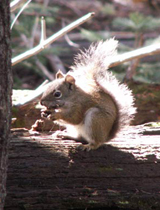 PHOTO: UA Conservation Research Laboratory
A Mount Graham Red Squirrel in its native habitat.
The latest count found approximately 214 of the rodents occupying a designated refuge area high in the Pinaleño Mountains near Safford. The squirrel's numbers are down slightly from last year but in line with populations measured in 2010.
Tim Snow, a non-game specialist for Arizona Game & Fish, says the squirrel's numbers vary from year to year, mostly from habitat loss from wildfire, insect infestations and prolonged drought.
Biologists conduct the count by visiting a random number of "middens," or areas where the squirrels store their food, mostly conifer cones.
The Mount Graham Red Squirrel is a sub-species of the Red Squirrel. It is found in only one place in the world - the higher reaches of the Pinaleño Mountains, an isolated "sky island" of southern Arizona surrounded by desert.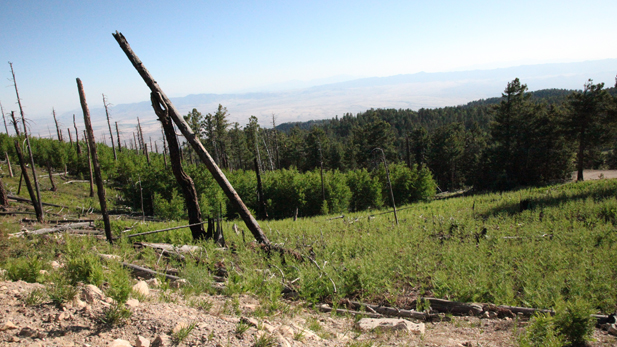 PHOTO: Mark Duggan
The road to the Mount Graham International Observatory passes through the squirrel's native range, in the upper elevations of the Pinaleno Mountains.
The rodent was thought to have gone extinct in the 1960s but was rediscovered ten years later. It has been on the federal Endangered Species List since 1987.
Snow says the current Mount Graham Red Squirrel conservation program is limited to monitoring. But, he says groups are involved in a proposal to breed them in captivity.
The designated refuge area in the Pinaleños is accessible by the public only through permit. The Mount Graham International Observatory is in the refuge area. When it was proposed in the late 1980s, some conservationists opposed it, saying development within the squirrel's range could threaten its population.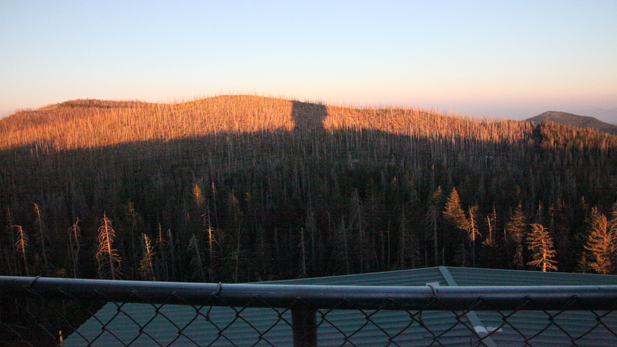 PHOTO: Mark Duggan
The shadow of the 13-story enclosure of the Large Binocular Telescope falls across a high ridge line, all part of the red squirrel's habitat in the Pinaleno Mountains.