Officials with the Reid Park Zoo said they have euthanized one of the zoo's two mandrills, a 21-year-old male named DJ, after his health deteriorated.
Mandrills are endangered primates closely related to baboons. DJ was born at Reid Park Zoo, and passed the median life expectancy by two years, but had diabetes, arthritis and valley fever, according to zoo officials.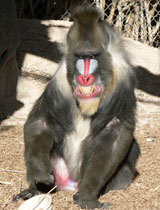 PHOTO: Reid Park Zoo
Reid Park Zoo officials euthanized DJ, an endangered mandrill, in Tucson, Nov. 26, 2012.
Zoo staff managed those health issues, but in the last few weeks, DJ's condition deteriorated and he stopped eating and responding to medication. In a news release, zoo officials say they made the decision to euthanize the primate after determining his quality of life would not improve to a reasonable state.
"I am very proud of the quality of life our staff provided him, given his age and complicated medical history. Their training expertise, husbandry skills, and attention to whole-life care are what afforded this animal a long and active life," said Jim Schnormeier, the zoo's general curator.
DJ is the latest Reid Park Zoo animal to die, following Snow the polar bear, who died of an undetected heart condition earlier this year. She was sent to Reid Park after living in Florida for years, and suffering from a skin disease which cleared up once she lived in a drier climate. Zoo officials have said the zoo is home to many elderly animals.
The zoo still has another mandrill, Cere, and participates in the Mandrill Species Survival Plan. In a news release, zoo officials said they would work with the survival plan to determine the zoo's next steps.