Listen:
Arizona Gov. Jan Brewer was on her way back to the United States from Afghanistan Thursday morning, after several days when her whereabouts were not disclosed and became the subject of much speculation this week.
Brewer spokesman Matthew Benson said the secrecy was a matter of security. The governor's office typically wants Arizonans to know what she is doing on their behalf, he said.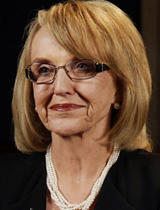 PHOTO: AZPM
Gov. Jan Brewer
"This is a different kind of trip. Anytime you're flying into an active war zone like Afghanistan, the Department of Defense puts strict guidelines and restrictions upon that information, and that's for the safety of those elected officials as well as the service members that are participating in that operation," Benson said.
The Department of Defense wants to ensure there are no extra risks taken to cause a security breach during such trips, he said.
This was Brewer's first trip to visit troops fighting a war. It was important for her to talk to Arizona service members, Benson said, and she told him this week she appreciates the time they serve in combat, after seeing them.
"We have a large number of national guardsmen and women participating in Afghanistan, so this was her first chance to go and see them face to face and really talk to them about her support for their operation and their mission and the fact that the people of Arizona stand with them and pray for their safe return to our country," he said.
Seeing their service has "taken it to a new level for her. She is so thrilled with the work that they are doing," he said.
Brewer also visited Kuwait during the trip and stopped at Walter Reed National Military Medical Center to meet with Arizonans recovering from war wounds there.
Brewer left Afghanistan Thursday morning, and after layovers in Germany and Washington, D.C., she is expected to return to Arizona Saturday.
In her absence, Secretary of State Ken Bennett has been serving as the state's top executive branch official.