(VIDEO: AZPM)
Ground was broken at mid day Friday, the 71st anniversary of the attack on Pearl Harbor, for a memorial to Arizona veterans of World War II.
Secretary of State Ken Bennett, World War II veterans, including Pearl Harbor survivors, and other dignitaries gathered in Wesley Bolin Plaza across the street from the Capitol for the ceremony.
It followed a commemoration of the Pearl Harbor attack, when Japanese planes bombed the U.S. Pacific fleet, sinking the USS Arizona and three other battleships and heavily damaging other ships. More than 2,300 were killed that day, including 1,900 aboard the Arizona.
The Phoenix memorial, to be called "Salute the Fallen," will feature a 14-inch gun from the USS Arizona and a 16-inch gun from the USS MIssouri. It also will feature a steel structure resembling a ship's hull that will bear the names of an estimated 2,000 Arizonans who died in the war.
"The memorial out in Wesley Bolin Plaza is going to be a very somber affair, as an homage to the fallen," Assistant Secretary of State Jim Drake said.
Drake said work is expected to take one year, with dedication ceremonies planned for Dec. 7, 2013. The project's total cost is $500,000, with much of the work and materials donated and the rest raised privately.
Watch more than one hour of interviews with three Arizona veterans of World War II, including one who witnessed the Pearl Harbor attack and another the Japanese surrender, at azweek.com.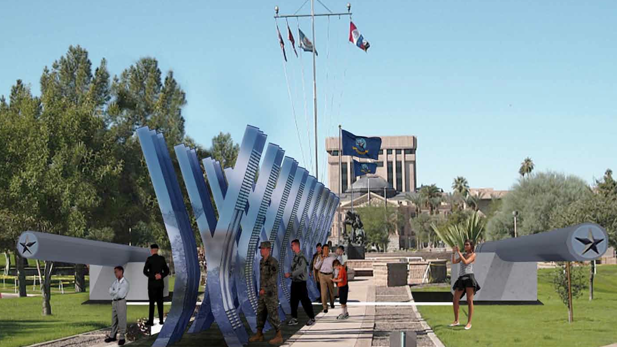 Architectural rendering of 'Salute the Fallen,' a memorial to World War II veterans planned for the Arizona State Capitol. (PHOTO: DLR Group, AZ Secretary of State)