The top Democrat in Arizona's House of Representatives plans to push a $100 million school and community safety plan that would triple funding for school resource officers, add money for mental health treatment and require background checks on all buyers at gun shows.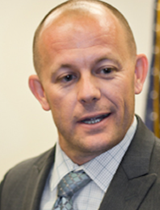 PHOTO: www.chadcampbell.org
Rep. Chad Campbell, D-Phoenix.
Minority Leader Chad Campbell of Phoenix says the plan announced Wednesday will be paid for by eliminating a tax credit for private school tuition popular among majority Republicans, closing tax loopholes and tapping into the state's budget surplus.
Other items include more school counselors and a school safety fund.
Campbell says he hopes the Republican-controlled House will at least consider the bills, although historically Democratic-sponsored bills have fared poorly.
Gov. Jan Brewer has said she is considering adding some school resource officer funding to the budget proposal she will release late next week.
Brewer may also discuss the issue in her State of the State address at the opening of the legislative session, scheduled for Monday.