Border crossings are down and drug seizures up in the last several years, but the Border Patrol is having difficulty defining "border security," the General Accountability Office said in a report released Wednesday.
The Department of Homeland Security "has dramatically increased resources and activities" along the U.S.-Mexican border, resulting in the improved statistics, the report said.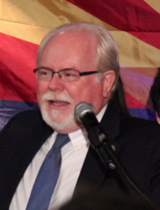 U.S. Rep. Ron Barber, D-Ariz.
But U.S. Rep. Ron Barber, D-Ariz., whose district includes an 80-mile stretch of the border in Cochise County, said in a press release: "It is unacceptable that my constituents still feel unsafe in their homes and in their communities on and near the border."
Barber's office said the 88-page report was the result of his request to the GAO "to evaluate the security strategy and resource needs of the Border Patrol."
It showed that in the Border Patrol's Tucson Sector, apprehensions of illegal immigrants fell 68 percent from fiscal 2006 to fiscal 2011. The report attributed the decline to Border Patrol enforcement strategies and the U.S. economic decline.
In the same period, the number of drug seizures across the entire span of the border, from Texas to California, increased 83.1 percent, the GAO report said.
The study concluded that the Border Patrol must do a better job of measurement and should shift from building resources to using its resources to tighten down even more on the border.
"Border Patrol is developing key elements of its 2012-2016 strategic plan needed to define border security and the resources necessary to achieve it," the report's summary said, "but has not identified milestones and time frames" that would lead to adequately measuring results.
"To ensure the border is secure, we must define our goals and deploy resources where they are needed most," Barber said in the press release. "This study confirmed that the risk and need in the Tucson Sector of the Border Patrol is high and we need the best possible strategy moving forward."
President Barack Obama has said he will push for comprehensive immigration reform in Congress this year. Most Republicans and some Democrats say they oppose reform until the border is secured, but the definition of what that means has remained elusive.
Barber's office will hold two public briefings on the GAO report in three weeks. The first will be Jan. 28, 5:30-7 p.m. at the Douglas Visitor Center, 345 16th St., Douglas. The second will be Jan. 29, 5:30-7 p.m. at the Pima Community College East Campus, 8181 E. Irvington Road, Tucson.

Read GAO border report here
View at Google Docs | Download File