In just a five-month period last year, there were 216 reported metal thefts in Tucson. Statewide, for all of 2012, businesses and homeowners reported $120 million in damages from metal theft. Copper wire and pipe, brass fittings, street light enclosures, even manhole covers. All have been stolen in the past few years.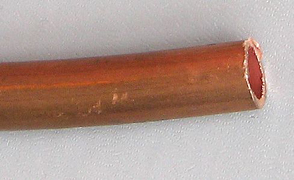 High copper prices have attracted thieves to pipe and wire
One local group is trying to do something about it. The Metropolitan Pima Alliance has formed a task force called Metal Watch
MPA Executive Director Amber Smith says the task force is a collaboration between about 15 different organizations and agencies. On board for the effort are the cities of Tucson, Marana and Oro Valley, as well as several chambers of commerce and contractor's associations.
Smith says they do not expect to completely eliminate metal theft, but they want to cut the losses. She says they're focusing on education, enforcement and the electorate.
And it's not just an issue of financial loss. A number of metal theft incidents have led to hazardous situations. Hospitals lose power because of stolen conduit, firefighters can't hook in to water supplies because of missing brass fittings on fire plugs, the back corner of the neighborhood park is completely dark because someone made off with the lamps - wire, enclosure and all.
Smith says businesses can join Metal Watch for no charge by contacting the Metropolitan Pima Alliance. They'll be kept in the loop on community-wide education events and get the latest tips on how to avoid metal theft.
Read more about the Metal Watch task force: View at Google Docs | Download File