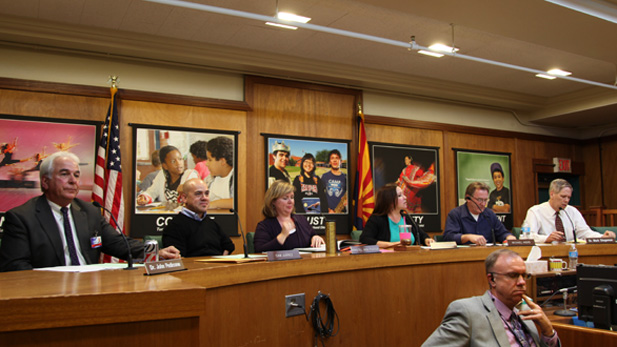 PHOTO: Fernanda Echavarri
Tucson Unified School District's governing board. (2013)
A recent change in state law will require students in third grade to read at their grade level before they can move on to fourth grade.
After approval from the governing board Tuesday night, the Tucson Unified School District will purchase Success Maker, an online reading intervention program to help students reach reading competency.
The program will cost the district $6.3 million over the next five years, and the state will pay for all of it, said Maggie Shaffer, assistant superintendent of elementary and K-8 leadership at TUSD.
This year, the Arizona Department of Education is expected to give the district $1.9 million, she said.
"And because it's a weighted formula as long as the number of our students stays the same, (funding for the program) should stay around the same figure," Shaffer said.
That money can only be used for reading programs for students in kindergarten through third grade, she said.
Starting next academic year, Arizona law will require "that a pupil not be promoted from the third grade if the pupil obtains a score on the reading portion of the Arizona Instrument to Measure Standards (AIMS) test that demonstrates that the pupil's reading falls far below the third-grade level."
There are two exemptions: students who are English learners with less than two years of English language instruction, and students with disabilities in the individualized education program whose parents or guardians agree that promotion to fourth grade is appropriate.
In spring 2010, almost 7.9 percent of TUSD students in third grade fell behind reading standards. That's 241 students who would not have been promoted to fourth grade, Shaffer said.
Last spring, the number of students who would not have been promoted dropped to 5.9 percent, she said.
TUSD does not have the $1.9 million from the state yet, but when the money arrives the district will purchase the online program, Shaffer said.
The money will come from a $40 million appropriation the Legislature made last year for the state's mandated Move on When Reading standard.