(VIDEO: AZPM)
Gov. Jan Brewer's plan to expand Medicaid to the levels allowed in the U.S. Affordable Care Act will take persuasion to get the OK of her fellow Republicans in the Legislature.
Brewer made the proposal this week, saying the state stands to benefit in several ways by accepting federal funding so it can extend health insurance for the poor to households at 133 percent of the federal poverty level.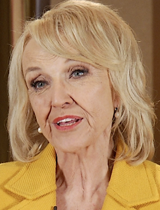 Gov. Jan Brewer. (PHOTO: AZPM)
"Today we are faced with this expansion that is something that the voters have already agreed to," Brewer said, referring to two successful ballot initiatives that extended health care for low-income adults and children beyond what the state was providing. "They've already said this is what they want. They don't want people suffering without insurance."
Brewer said if the state comes up with $154 million in each fiscal year, it can draw $1.6 billion in federal funding to extend Medicaid - in Arizona known as AHCCCS or the Arizona Health Care Cost Containment System - to 240,000 more people.
"Arizona can benefit by doing this when you look at the facts and figures," she said. "We will be able to expand Medicaid, deliver good services, and it won't cost the taxpayers any money, none at all."
That is because the state's costs would be covered by a provider fee imposed on hospitals and health-care institutions, something they are willing to do without passing it on to their patients, Brewer said.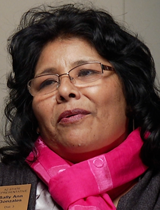 Rep. Sally Ann Gonzales, D-Tucson (PHOTO: AZPM)
"Elated," Rep. Sally Ann Gonzales, D-Tucson, a member of the state House Health Committee, said in reaction to the plan. "One of the reasons I ran is because of what's happening with health care for the working poor citizens of Arizona, so I was elated that she said she was willing to expand the Medicaid program."
Pete Wertheim, vice president for strategic communications at the Arizona Hospital and Healthcare Association, said the governor's announcement brought "a great sigh of relief."
This is "an excellent first step toward bringing some stability to our health-care system that is sorely needed," Wertheim said. "And the impact of that will also have great positive effect on the business community as well, and for all Arizonans."
But a Republican legislator in a strategic position said he was "not particularly enthusiastic" about the extension.
"I opposed the Medicaid expansion, for a number of reasons," said Rep. John Kavanagh, R-Fountain Hills and chair of the House Appropriations Committee. "It certainly puts the state at risk of assuming an awful large additional expense, which we can't afford.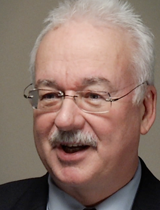 Rep. John Kavanagh, R-Fountain Hills (PHOTO: AZPM)
"There's no guarantee the money will keep flowing from Washington," Kavanagh said, predicting that when the money does stop, the responsibility for paying for expanded Medicaid will fall to the states.
Under such a scenario, he said, Arizona's budget deficit could climb to $500 million by 2016.
Brewer said she wants a "circuit breaker" built into the state's expansion plan so that if the funding formula from the federal government changes, the state program will be scaled back.
Kavanagh said that still doesn't remove the fiscal burden from Arizonans, who "are all still citizens of the United States. We'll be paying for this out of the federal pocket. So, it's going to cost us, although I think maybe our children and grandchildren, because the level of debt this is going to increase in the federal government is nothing that's going to be paid for in our lifetimes."

Read Brewer's Medicaid expansion plan here
View at Google Docs | Download File
More on Brewer's Medicaid plan and reaction to it tonight on Arizona Week, plus her education funding plan and legislative reaction, 8:30 p.m. MST PBS 6.