The U.S. Environmental Protection Agency's Toxics Release Inventory for Arizona shows that industries increased the amount of potentially dangerous substances they release into the ground by 22 percent. The survey is for 2011, the most recent year records are available. The report was released last week.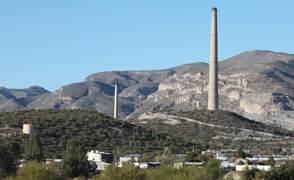 The EPA reports the Hayden Smelter/Concentrator (shown here) and the nearby Ray Mine released the most toxic substances in Arizona in 2011. (PHOTO: Mark Duggan)
The inventory shows that 18 million more pounds of toxic chemicals were released into the ground in Arizona than in 2010.
There were some decreases reported: Water releases were down 27 percent, air releases by 2 percent. Underground injection releases were unchanged. But off-site transfers, where industries remove toxic substances from their property and transport them to another location for storage or processing, decreased 41 percent.
The survey also places Arizona as 10th in the nation for toxics releases, up from 14th in 2010. An increase in hard rock mining, according to EPA regional administrator Jared Blumenfeld, led to the state's climb in the ranking. Several Arizona copper mines expanded operations in 2011.
Another factor: more industries are complying with mandatory release reporting.
"The companies that weren't reporting as much information before are now fully reporting," Blumenfeld says. "And so we're getting a clearer picture of what's going on."
In all, 261 Arizona industrial facilities reported dealing with 98 million pounds of toxic chemicals in 2011. The most commonly released in Arizona are zinc, copper, lead and various related compounds. Seven of the top ten facilities for such releases are copper mines. Asarco's Ray Complex and Hayden Smelter/Concentrator released the most toxic substances in 2011.
The EPA's Toxics Release Inventory is published annually for each state and tracks more than 650 substances. It defines a "release" as "the amount of a toxic chemical released on site (to air, water, underground injection, landfills and other land disposal), and the amount transferred off-site for disposal."
More resources:

See the EPA's 2011 Toxics Release Inventory for Arizona: View at Google Docs | Download File


EPA's Toxics Release Inventory site
Compare the toxics releases of some other Western states, such as California and Nevada, at the EPA's Toxics Release Inventory site for the Pacific Southwest region