Members of the Arizona Joint Legislative Budget Committee will meet Thursday to hear the latest economic outlook from their Finance Advisory Committee.
The group meets three times a year to update legislators on the state's and nation's economies, with forecasts going forward for several years.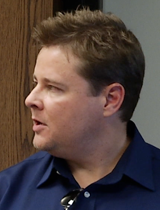 Economist Jim Rounds. (PHOTO: AZPM)
The last time the group met, in October, committee member and economist Jim Rounds predicted that the first half of 2013 would be one of slow economic growth.
Rounds, a former state government economist and now senior vice president at Elliott D. Pollack & Co. of Scottsdale, said then that he projected full economic recovery for Arizona would still come no sooner than 2015 or perhaps the next year.
JLBC staff members at the time forecast a slowing of state revenues in the second half of the fiscal year, after they had been climbing beyond budgeted expectations for much of the last fiscal year.
Revenues have slowed, but they were still slightly ahead of the state budget halfway through the fiscal year at the end of December, by about 0.4 percent, according to the committee's monthly report last week.
The Legislature usually follows closely the JLBC's revenue forecasts in drawing up the state budget, the key task for the legislative session that began last week.
Republicans have said they think GOP Gov. Jan Brewer is proposing too much spending for 2013-14, considering the slow-moving economy and revenue outlook.
Brewer wants more for Child Protective Services, something many legislators agree with, and for her educational reform proposals. Some GOP legislators have said those spending proposals are more than the state can afford.
The JLBC Finance Advisory Committee will meet starting at noon Thursday in Senate Hearing Room 1 at the state Capitol.