A prominent female military veteran from Arizona says the Pentagon's decision to lift the ban on women serving in combat is welcome and long overdue.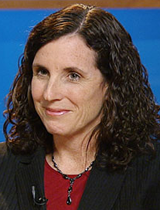 PHOTO: AZPM
Martha McSally.
The change was announced Wednesday by Defense Secretary Leon Panetta. It affects mostly ground combat units.
Martha McSally, a Tucsonan, is a retired Air Force colonel who is the first woman in the U.S. Air Force to fly in combat and command a fighter squadron.
McSally says allowing women in combat will increase the military's efficiency and effectiveness. She says excluding women from combat units was out of touch with both the realities of combat and performance of women.
And she says the change will provide commanders in the field with more flexibility to do their missions.
McSally ran unsuccessfully last year in two races for a seat in Congress. She lost the Republican primary special election last April in a bid to fill the seat of former Congresswoman Gabrielle Giffords. She won the GOP primary in August for the 2nd Congressional District seat, then lost by a narrow margin to Democrat Ron Barber in the November general election.