(VIDEO: AZPM)
Tucson has its share of film festivals, and it seems that just about every month audiences have the opportunity to choose from screenings of unique films that are not part of the multiplex circuit.
Still, Joe Sprague saw a void the city's cinematic offerings when he moved here from Chicago. "When I cam to Tucson and saw that there wasn't an LGBT film festival I felt it was something that was needed," says Sprague.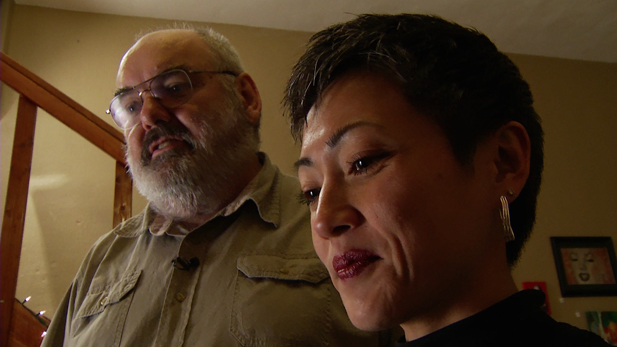 Festival co-directors, Joe Sprague (L) and Han Nguyen (R), screen submissions for the second annual Out in the Desert, International LGBT Film Festival.
Sprague spent eight years as operations manager for the LGBT International Film Festival in Chicago before moving to Tucson. He says that's the second oldest and largest festival of its kind in the world and it served as the model for Tucson's Out in the Desert –an LGBT International film festival, now in its second year.
"Last year we received over 500 entries for the film festival, and we showed 146 films," says Sprague. "This year we received 646 entries, and we're showing 164 of those."
Sprague says the LGBT film circuit has evolved considerably during the time he's been working in the industry, and the advent of new, more accessible technology has allowed a greater diversity of voices to be represented on screen.
"It's making (film making) more accessible which is really exciting," says Sprague. "This year our youngest filmmaker is 14 years old, and our oldest is 72 –so, we have a major span in age."

Han Nguyen, an independent filmmaker and festival co-producer, says it was important to the organizers that the screenings expose audiences to the broad diversity of the films. This is the motivation behind the decision to program the festival by genres, as opposed to the more traditional LGBT categories that she says tend to segregate the audiences. "I'm very excited about this because we're exposing the audience to ideas they may not have considered otherwise," says Nguyen.

The Out in the Desert Film Festival continues with screenings throughout this weekend.