A bipartisan group of eight U.S. senators, including Arizona's John McCain and Jeff Flake, proposed immigration reform Monday, with "a tough but fair path to citizenship" for an estimated 11 million illegal immigrants.
Listen to a report by Andrea Kelly and Fernanda Echavarri
The legalization path will be a key to reform and likely the greatest point of contention in getting it passed.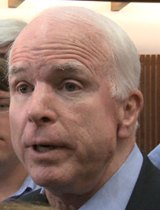 U.S. Sen. John McCain, R-Ariz. (PHOTO: AZPM)
The proposal also includes temporary and permanent immigrant workers to fill jobs that otherwise go wanting, setting up an employment verification system and "an improved process for admitting future workers to serve our nation's workforce needs."
Granting citizenship would be "contingent upon securing the border and combating visa overstays," the senators' proposal said.
That would mean providing more resources to the Border Patrol, including unmanned aerial vehicles, other surveillance equipment and more agents at ports of entry.
McCain, a Republican, acknowledged at a Washington, D.C., news conference Monday afternoon that illegal border crossings have dropped significantly in the last five years but said border residents still don't have the level of security they deserve.
A report three weeks ago from the General Accountability Office said the federal government was spending $18 billion annually on border-related security efforts, more than all other federal law-enforcement spending combined. Despite that, the report said, there isn't a valid measure of border security.
The proposal comes one day before President Barack Obama is scheduled to make a speech on immigration in Las Vegas. His reelection in November came with support from more than 70 percent of the Latinos who voted, and that gave impetus to reform, including calls from Republicans who had been resistant.
The "Gang of Eight" that came up with the proposal includes two Latino senators, Democrat Robert Menendez of New Jersey and Republican Marco Rubio of Florida.
"We recognize that our immigration system is broken," the senators said in the introduction to what they titled a "Bipartisan Framework for Comprehensive Immigration Reform."
"And while border security has improved significantly over the last two administrations, we still don't have a functioning immigration system," the statement said. "This has created a situation where up to 11 million undocumented immigrants are living in the shadows."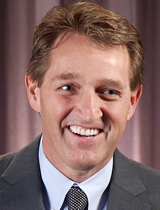 U.S. Sen. Jeff Flake, R-Ariz. (PHOTO: AZPM)
The senators also are calling for a visa tracking system to determine "whether all persons entering the United States on temporary visas via airports and seaports have left the country as required by law."
By some estimates, as many as half the people in the country illegally actually entered legally on visas that have expired. This includes temporary workers, visitors and students.
The proposal would create a commission of residents and officials living near the border in Arizona, California, New Mexico and Texas "to monitor the progress of securing our border and to make a recommendation regarding when the bill's security measures outlined in the legislation are completed."
Illegal border crossings are at a 40-year low, the Department of Homeland Security has said, using as its basis for that an extrapolation from the number of arrests being made. At the same time, the GAO report of three weeks ago said drug seizures along the border are up significantly.
Those now residing in the country illegally would be required to register with the federal government and would be subject to background checks and payment of fines and back taxes "to earn probationary legal status, which will allow them to live and work legally in the United States."
Proponents of that idea, including Flake, have said it does not amount to "amnesty," because it requires those here illegally to go to the back of the line to gain permanent legal status and, eventually if desired, citizenship.
McCain said at the news conference that illegal immigrants whom Americans pay to mow their lawns, harvest their crops and even watch their children should be afforded the opportunity for legalization.
Others have said anything short of deportation of all in the country illegally amounts to amnesty.
Young people brought to the country illegally as children would be given a faster path to citizenship under the senators' proposal because they "did not knowingly choose to violate any immigration laws," their statement said.
Those immigrants often have been referred to as "dreamers," so named for the proposed DREAM Act, which has been pushed unsuccessfully in Congress to legitimize their presence. By executive order last year, Obama gave "dreamers" the opportunity to register for two-year deferral of deportation.
Flake, a Republican elected to his seat in November, was a proponent of comprehensive reform when a member of the House several years back. He retreated from that position in favor of border security first as he sought the Senate seat.
Flake said on Arizona Week Friday that the political reality for Republicans is "that we can't take some of the positions that have been taken in the past. Having said that, the position I took in the campaign is that border security has to be paramount."
"I believe the majority of the American people support our effort," McCain said in concluding his remarks in the nationally televised news conference.
Besides Flake and McCain, the "Gang of Eight" includes Democratic Sens. Chuck Schumer of New York, Dick Durbin of Illinois, Menendez and Michael Bennet of Colorado, and Republicans Lindsey Graham of South Carolina and Rubio.

Read the "Gang of Eight" proposal here
View at Google Docs | Download File