From National Public Radio:
Speaking to an audience in Las Vegas, an upbeat President Barack Obama said that "now is the time" for "common sense comprehensive immigration reform."
While Obama echoed the pillars of immigration reform presented by a bipartisan group of senators on Monday, he also made an emotional plea for reform.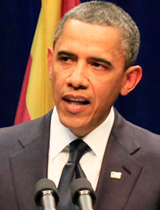 President Barack Obama (PHOTO: AZPM)
"What makes somebody American," he said, "is not just blood or birth, but allegiance to our founding principles."
Obama said that immigrants make this country vibrant and are responsible for a fourth of new small businesses and a fourth of high tech businesses. He said Google and Yahoo! and Instagram were all in part founded by immigrants.
He said that's partly why immigration reform is "common sense." Obama warned that as immigration reform becomes more of a reality there will be those who try to knock it down, who will try to frame the debate as "us versus them."
But "many forget most of us used to be them," Obama said before delivering a brief history of immigrants to this country — from the Irish to the Germans, from the Scandinavians to the Chinese.
He continued:
"All those folks before they were us, they were them. And when each new wave of immigrants arrived, they faced resistance from those who were already here. They faced hardship. They faced racism. They faced ridicule. But over time, they went about their daily lives. They earned a living as they raised a family, as they built a community, as their kids went to school here.
"They did their part to build the nation. They were the Einsteins and the Carnegies, but they were also the millions of women and men whose names history may not remember, but whose actions helped make us who we are, who built this country hand by hand, brick by brick."
"Remember," he said in closing, "that this is not just a debate about policy. It's about people."
The substance of his proposal did not differ substantially from the group of senators unveiled Monday. Obama boiled it down to three main issues: First, enforcement. Second, a path to citizenship for the estimated 11 million people in the country illegally. Third, an overhaul of the current system.
While Obama seemed to go along with the Senate proposal, he also said if Congress doesn't act, he would write his own bill and "insist" legislators vote on it "right away."