Sen. John McCain warned fellow Republicans Wednesday that rejecting comprehensive immigration legislation could mean continued election losses for the GOP, as Republican-friendly states like Arizona fall to the Democrats.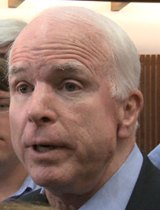 PHOTO: AZPM
U.S. Sen. John McCain, R-Ariz.
The Arizona Republican is one of eight senators to sign onto a bipartisan immigration reform framework this week.
He said at a breakfast hosted by Politico that failure to act means the trend of Latino defections from the GOP would continue. Democratic President Barack Obama captured more than 70 percent of the Latino vote in November.
That outcome gave impetus to immigration reform in both major political parties, with Republicans laying the blame for their poor showing on their tough-on-immigration stance.
McCain in 2007 co-sponsored legislation with the late Democratic Sen. Ted Kennedy to reform immigration. That bill failed.
McCain, facing reelection in 2010, backed off of comprehensive reform support and instead called for tougher border security, including a campaign ad in which he said, "Complete the danged fence."