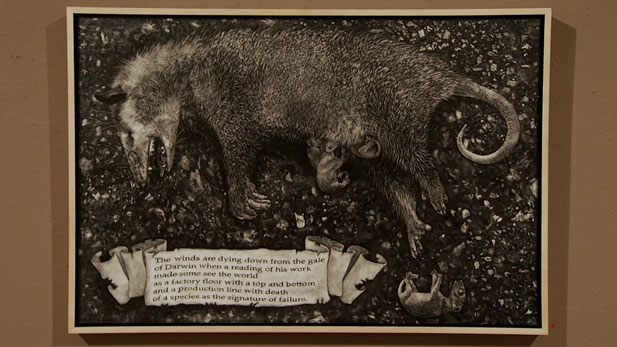 Alice Leora Briggs, "U.S. Route 71", sgraffito on panel, courtesy Etherton Gallery
Alice Leora Briggs painstakingly handcrafts images few would have the patience or nerve to create. Her recent work is in a show titled "Surface Tension" at
Etherton Gallery
, which also includes work by photographer Joel-Peter Witkin, and artist Holly Roberts.
Briggs' subject matter ventures into dark terrain, and shares an affinity with Witkin's work. Both artists have made names for themselves by creating images from morgues and insane asylums. "Mortality in one way or another is at the root of everything that I do" says Briggs.
Trained as a printmaker, Briggs now cuts, scratches, and burns into her materials. Her style echoes techniques of the Northern Renaissance, but she found unexpected influences from the U.S. southern border. She held adjunct and visiting artist positions at the University of Arizona until 2005, when she left for West Texas, and was able to devote herself entirely to making art for the first time. "I loved teaching" she says "but I love this even more".
She was selected for the Border Art Residency and spent a year near El Paso, Texas, and often travelled just across the border to Juarez. Several images in "Surface Tension" reflect on violent events in the region. Recently, she has been living in Lubbock, Texas, and exhibiting in several group and solo shows annually.
Images courtesy of Etherton Gallery
Producer: Heather Wodrich | Videographers: Heather Wodrich, Martin Rubio | Editors: Lauren Bays, Jennifer Fredericksen