Unpredictable winter weather sends some Tucson residents scrambling to protect their plants and gardens from the cold. But imagine the challenge of trying to protect hundreds of exotic plants from freezing.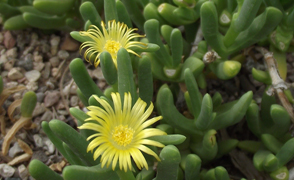 Malephora lutea at Tucson Botanical Gardens
Staff at the Tucson Botanical Gardens deal with it on just about any cold winter day. They keep an eye on the forecast for any overnight low that drops below freezing. That's enough to damage or even kill many of the more sensitive plant species.
Michael Chamberland is Director of Horticulture for the gardens. He says some of their plants are native to desert regions and not cold-resistant. In a winter with frequent cold snaps, gardens staff take extra care to make sure exposed plants are protected.
They use large fabric bags that can easily be draped over plants. According to Chamberland, the idea is to hang the bag from the plant in such a way that it holds heat in and lets indirect sunlight hit the plant, too. Gardens staff will even put heat lamps at the base of the plant and use the bag to radiate the heat upward, along the plant's stalk.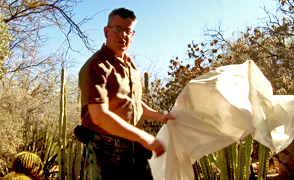 Michael Chamberland, Director of Horticulture for the Tucson Botanical Gardens, demonstrates wrapping a plant in fabric to protect it from the cold. (PHOTO: Mark Duggan)
Some species of plants are so sensitive, wrapping them isn't enough. They spend part of the winter in the greenhouse.
Part of the challenge at a public garden, says Chamberland, is promptly unwrapping the plants the morning after a cold night. While most people can safely leave their plants wrapped for several days, gardens staff want to make sure they're unwrapped each morning when visitors arrive.
Chamberland says the Tucson Botanical Gardens actually plans to lose some flora to the cold. Many of the garden's flowers and annuals are grown for color and display, so they're allowed to die each winter.
A plant at the Tucson Botanical Gardens, wrapped to protect it from the cold. (PHOTO: Mark Duggan)