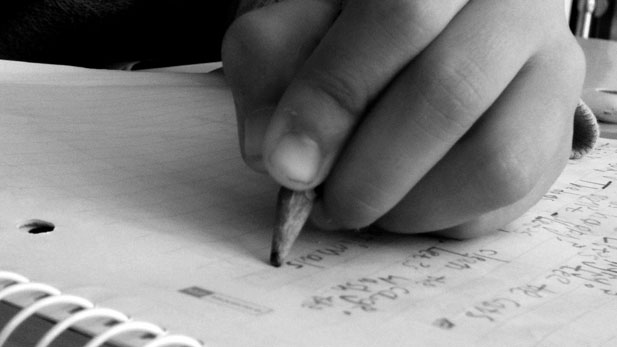 Erec Toso was previously a guest on Arizona Spotlight in 2006, talking about his book Zero at the Bone, a harrowing first-person account of what it's like to be bitten by a rattlesnake. The book revealed Toso as a writer who delves deeply into his own soul to create his prose.

Erec Toso
And now every Saturday, this busy author and U of A lecturer gathers together some pens, paper, and books, and travels to a state prison complex located on Tucson's south side. There, he holds two back-to-back workshops for groups of about 15-20 inmates. All of the participants are writers who want to learn more about writing.
The work these men produce is full of heart-stopping moments of seering truth and uplifting beauty. In this conversation, Erec Toso shares insight on what it is like to be confronted with the intensity, honesty, and drive that his workshop participants invest in their writing...
Listen:
There will be much more about the inmate writing program featured on the first edition of AZ Illustrated's new weekly Arts & Culture edition, hosted by Elizabeth Burden. The program debuts Thursday, February 7th at 6:30 pm on PBS 6.

(VIDEO: AZPM)
Erec Toso and Richard Shelton discuss the inmate writing program during an interview on AZ Illustrated.
About the writing workshop's literary magazine:
Richard Shelton began publishing Walking Rain Review almost 30 years ago. Walking Rain showcased inmate poetry, fiction, and non-fiction prose, along with original images drawn both in prison and outside by ex-inmates.
The Lannan Foundation recognized the work that Shelton was doing, and awarded the prison project a grant that is currently administered by the UA Poetry Center.
Walking Rain went through 15 editions before Richard Shelton retired in 2010, when Ken Lamberton and Erec Toso decided to found a new review that both looked ahead and built on Shelton's Legacy.
They gave Walking Rain a nod with the title Rain Shadow Review, the first issue of which was published in early 2012. A second issue will be published in February, 2013. Issues of both magazines are available without charge at the UA Poetry Center.
Here is the text of the poem that Erec Toso reads at the end of the interview, written by Joe Bell:
No Secrets
One man
One woman
Hover on wheelchairs
Between racing skateboards
Economics of Reagan years
Never trickled down
Certificate of vows
Faded parchment
Broken bones
Prozac
White lies
Scheduling love sessions
Between leaking bladders
Arthritic flare-ups
Varicose veins
Lengthening teeth
Lusty daydreams
Of Channel 4's weather gal
Awakened by flatulence
Mirages blinded by cataracts
A distant moon
A distant man
Dark spots on lips
Eczema
Melanoma scars
Craters
Gravity severed
Decades cremated
High school yearbooks
Become obituaries
Religion reincarnates
Battling the hurricane with a bayonet
Conducting our locomotive
On the tail of a comet, we
Windsurf with
Coffee, cream, two sugars
Resurrection under construction
Written by:
Joe Bell
No. 245916
Santa Rita