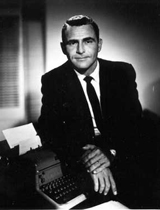 Twilight Zone creator Rod Serling
Rod Serling became a household name in the 1960s with his TV series The Twilight Zone.
His brother Robert, seven years younger than Rod, outlived him by almost 25 years.
In 2009, Robert Serling shared memories of his brother with reporter Mark Duggan:
Duggan quickly realized that Robert Serling had his own interesting story. He was the longtime Aviation Editor for United Press International, author of more than 20 books, including a best-seller:

Story by Mark Duggan
Robert and Rodman Serling grew up in Binghamton, NY, in a simple world filled with King Kong and baseball. But life would become more complicated for Rod when he went off to war. According to Robert, his younger brother came back from duty a changed man.
PHOTO: Serling Family
Brothers Rodman and Robert Serling in Binghampton, NY, 1934
He said he knows his brother saw some things in the war that forever affected him, things he was very reluctant to talk about.
The only way he could deal with them was by becoming intensely imaginative and creative.
Rod Serling parlayed those traits into a job writing scripts for CBS in the mid 1950s. Soon, he was writing for prime time shows, and making a name for himself for his inventive plots. In fact, it was his sheer creativity that led to his being given his own weekly TV series. He called it The Twilight Zone.
The first episode aired on October 2, 1959 and was an immediate success.
The show explored, in a dramatized fashion, a world where just about anything was possible, particularly things bizarre and unexplainable.
While Rod Serling was having success with The Twilight Zone, his brother was also making a name for himself.
Robert was aviation editor for United Press International and wrote a number of books on aviation. Several of them were fictional works that sold reasonably well in the 1970s. One, The President's Plane Is Missing became a made-for-TV film in 1973.
A scene from the Twilight Zone episode "The Odyssey Of Flight 33."
Despite both being writers, the Serling brothers only collaborated once, on a script for the 1961 Twilight Zone episode The Odyssey Of Flight 33. Robert described watching his brother stare at an airline brochure for several minutes before turning to him and asking what he thought of the idea of an airliner in flight suddenly traveling back in time.
It became another plot for The Twilight Zone!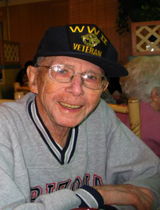 PHOTO: Serling Family
Robert Serling at his Tucson home in 2010
Robert Serling recalled that King Kong was a most treasured movie for both of them, going back to boyhood. Once, as adults, they were watching the movie together for, as Serling said, "the upteenth time." Then came the scene where Kong sets Fay Wray down to safety and falls to his death from the top of the Empire State Building. "And my late wife came in. There was Rod and there were Bob on the floor, sobbing. Because King Kong just got killed."
Robert Serling chuckled for moment and added, "We were rank sentimentalists and rank romanticists, both of us."
Rod Serling died of lung cancer in 1975 at the age of 50.
Robert Serling passed away of natural causes in Tucson in 2010. He was 92 years old.