By Susan Murphy and Jill Replogle, Fronteras Desk
Secretary of Homeland Security Janet Napolitano toured the border near San Diego Monday as part of a two-day inspection tour that will end in El Paso, Texas, on Tuesday.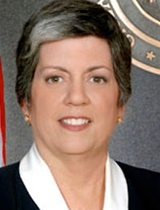 Homeland Security Secretary Janet Napolitano.
Napolitano met with state and local officials at the U.S. Coast Guard District Maritime Unified Command about how to secure the border without hindering lawful trade and travel, according to a statement by the Department of Homeland Security.
Some key Congressional Republicans want confirmation that the border is entirely secure before opening a path to citizenship for undocumented immigrants.
Napolitano had this to say after taking a helicopter tour of San Diego's two major border crossings, and meeting with federal, state and local law enforcement officials.
"I believe the border is secure. I believe it is a safe border," Napolitano said at the end of her San Diego stop.
Napolitano cited federal figures showing apprehensions of illegal border crossers are down 50 percent since 2008. Meanwhile, confiscations of bulk cash, illegal drugs and weapons along the Southwest border shot up over the last three years.
The visit came a week after a bipartisan group of U.S. senators outlined a proposal for overhauling the nation's immigration system. The proposal calls for securing the border first.
Napolitano said the border could never be 100 percent secure and her administration would continue to put every resource possible into border security.
"But we need immigration reform to go along with this," Napolitano said.
She said enforcing the nation's immigration laws was "intrinsically and inextricably related to a legal immigration system," and the current system is broken.
Napolitano expressed support for the senators working to craft an immigration overhaul bill.
After her two-day trip, Napolitano and White House policy director Cecilia Munoz will meet with law enforcement officials from around the country to talk about Obama's plan, the Los Angeles Times reported.
The Border Patrol says border arrests in the San Diego region last year fell by about one-third to its lowest level in more than four decades.
Fronteras Desk is a collaboration of public broadcasting entities in Arizona, California, Nevada, New Mexico and Texas, including Arizona Public Media.