The new chairman of the Arizona Republican Party is forming a committee to ensure that the legislative and congressional redistricting process in the next decade is fair to the GOP.
Robert Graham in a press release Tuesday called the current process "flawed," saying that districts "were drawn up based on a one-sided political agenda and too much secrecy, and I'm taking action now to make sure that doesn't happen again."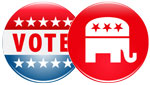 Vote GOP campaign buttons
Republicans have complained almost from the beginning of the redistricting process two years ago that the Independent Redistricting Commission was stacked in favor of Democrats. Several GOP challenges to redistricting are working their ways through the courts.
The districts approved last year by the commission were used in last fall's primary and general elections. In them, Republicans won majorities in both state legislative chambers, although at smaller margins than in the past.
In the congressional races, Republicans won four seats and Democrats five. Voter registration numbers in the nine districts show four favoring Republicans, two favoring Democrats and three with no clear advantage for either. Democrats won by relatively narrow margins in all three of the competitive districts.
"We are looking for an honest and open process that doesn't favor one group of voters over another - one that is truly bipartisan and treats voters equally while putting an end to the discrimination against Republicans," Graham said in the press release of his efforts toward the 2020 Census-driven redistricting.
Graham said the committee he is forming will have nine members, one from each congressional district. He said those interested should contact the party.