The Arizona Board of Regents is supporting Gov. Jan Brewer's budget proposal for next year, including her request to increase the number of people covered by Medicaid in Arizona.
Brewer asked the Regents today to support her health care request because she said it has implications for education funding.
"By expanding Medicaid in accordance with the Affordable Care Act we can secure federal funding for expenses the state and its hospitals are already incurring," she said.
That's because when someone without insurance and no means to pay a medical bill shows up at a hospital for treatment, health care providers cannot turn them away, so they take on the cost of treatment and services.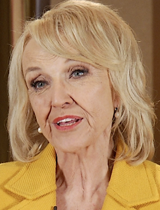 PHOTO: AZPM
Gov. Jan Brewer.
If the state shifts some costs to the federal government, as would happen in an expansion of the pool of eligible Medicaid recipients, it can free up state funds for other purposes, Brewer said.
"We can begin to get a handle on Medicaid spending, the fastest growing portion of our state budget and as a result, the greatest threat to core services like public safety and higher education," Brewer said.
One example of a potential beneficiary is University Medical Center, Brewer said.
"Taking a portion of Medicaid off the general fund will give us greater freedom to support and grow amenities like the U of A medical school," she said.
Arizona's Medicaid program is called the Arizona Health Care Cost Containment System, or AHCCCS.
Since announcing in early January her proposal to expand AHCCCS coverage, Brewer has been traveling the state to garner support for her plan. Brewer's stop at the Board of Regents' meeting Thursday in Tempe was the latest such event.
The regents voted to support Brewer's proposal. Rick Myers, the chairman of the Board of Regents, said he agrees with Brewer's assertion that expanding Medicaid coverage will ultimately mean funding for universities.
"We recognize that this decision on Medicaid absolutely is critical to allowing our state to serve the needs of our people, but to give the flexibility for you to be able to support higher education," he said to Brewer.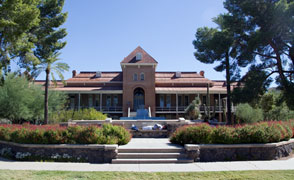 University of Arizona Old main
Presidents of all three state universities, including Ann Weaver Hart, of the University of Arizona also said they support Brewer's budget proposal and expansion of Medicaid coverage.
"Someone will need to bear the cost of the citizens of Arizona who have to seek help, this is a way for all of us to be great partners and certainly for those of us who work in academic medicine and all of the safety net hospitals in the state," Hart said. "Someone will pay, the question is will all of us bond together to ensure that that is a part of our joint commitment?"
The legislature and the governor typically spend weeks negotiating budget priorities before agreeing and passing a final budget. The next fiscal year begins July 1.