Arizona's chief elections officer doubled as the head of Republican presidential nominee Mitt Romney's state campaign committees for last year's election.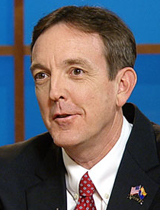 PHOTO: AZPM
Secretary of State Bennett
It raised eyebrows that the dual role for Arizona Secretary of State Ken Bennett could be a conflict of interest. Now, a bill has been introduced in the state Senate that would bar that from happening again.
The Arizona Republic reports that under the bill, the secretary of state could not serve as an officer of any candidate's campaign committee if that candidate is running in an election the secretary of state would oversee.
The bill's sponsor is Democratic state Sen. Robert Meza of Phoenix.
He says it's a way to ensure that election oversight isn't biased. The Senate Elections Committee will consider the bill on Tuesday.
As secretary of state, Bennett is responsible for overseeing elections in Arizona.
Democrats questioned the dual role when Bennett, in response to what he said were more than 1,000 constituent inquiries, said he would ask Hawaii for proof of Democratic President Barack Obama's birth there before certifying him for the Arizona ballot.
Bennett later said Obama's name could be on the ballot because he had received assurance from Hawaii of the president's birth there.