Arizona Gov. Jan Brewer wants to change the state's tax code to simplify it, but a top Republican state lawmaker says it could be difficult.
Brewer's proposal would make it easier for businesses to comply, she said.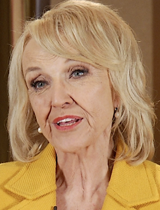 PHOTO: AZPM
Gov. Jan Brewer.
"We've seen studies, we've read reports calling our sales tax the most complicated in the nation. What Arizona hasn't done is something real and lasting to address the issue," Brewer said.
Republican State Rep. John Kavanagh said one of the proposals is controversial because there's so much opposition to it. The proposal is to change the state's construction sales tax. Right now, the tax is assessed at the place of construction, but if the governor's proposal is approved, the tax on construction would be assessed where the materials are purchased.
Local governments say they can't spend money to fix roads and install new infrastructure if they don't get taxes to offset the impact of construction, Kavanagh said.
"Almost everybody is opposed to it, Tucson, Phoenix, small cities and towns, all the Native American tribes just came out against it," Kavanagh said. "I don't know anybody who's for it except a few people in the governor's office and a few people in construction."
The issue is so controversial, Kavanagh said, that it could be enough to kill the rest of the proposed sales tax changes.