Andrew C. Comrie was named senior vice president for academic affairs and provost of the University of Arizona Tuesday. The position is second in the university administration behind President Ann Weaver Hart.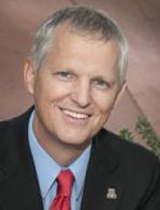 PHOTO: University of Arizona
UA Provost Andrew Comrie.
Hart made the announcement in a press release, lifting the "interim" status of Comrie's provost role. He was named interim provost last September and before that was dean of the Graduate College and associate vice president for research. He is a climatologist, researching the connections between climate and disease.
"The UA is poised for a new season of excellence, which requires innovation, discipline, creativity and a spirit of partnership and collaboration among our leaders," Hart said in the press release announcing Comrie's appointment. "Andrew Comrie exemplifies these and many other qualities that will make him an excellent provost."
"My roots at this institution run deep, and it's an honor to be entrusted with the responsibility of serving as provost," Comrie said in the press release. "More importantly though, I believe the University's best days are ahead and am excited to see the UA emerge as one of the world's best universities for the 21st century."
Comrie, who has been at the UA since 1992, was quoted in the press release as saying, "I am truly excited by the opportunities we have to develop excellence in education and research, as well as the broader impact, of this great institution. I am looking forward to working with colleagues across the university and in the community to make that happen."
He replaces Meredith Hay, who departed the provost position last year for a consulting post with the Arizona Board of Regents.
The university also announced Hart's appointment of Teresa Lucie Thompson as senior vice president for university relations. She will oversee communications, marketing, brand management, government relations, community relations and Arizona Public Media.