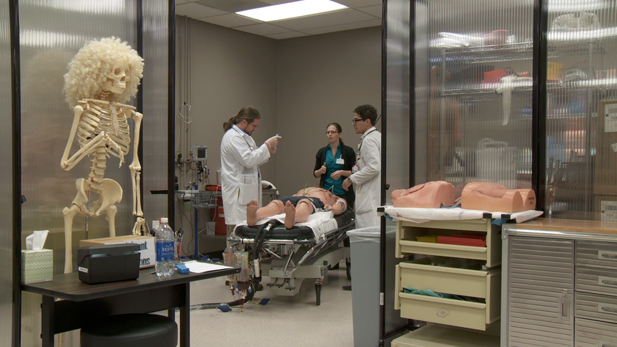 Medical student J.P. Jarczyk practices administering epinephrine in a simulated allergic reaction case.
University of Arizona College of Medicine students, faculty and staff can practice a wide variety of medical scenarios at the Arizona Simulation and Technology Center or ASTEC.
Third year medical students have the opportunity to practice critical care scenarios. Instructor Dr. Laura Meinke runs the students through emergency room codes using a mannequin equipped with software and sensors to respond to their efforts. Medical student Pablo Sanchez says even though he is not yet working with real patients, "while you are in the situation, it definitely feels very real". To make the training more life-like, artificial tissues developed by ASTEC's Dr. David Biffar are attached to parts of the mannequins so students can practice giving IVs or inserting breathing tubes.
Dr. Meinke says she says when students frequently practice specific algorithms or emergency procedures, their response becomes more automatic, and could save lives in a real situation. She says ASTEC is important because "it allows people to practice in a situation where we're not putting any patients at risk". One procedure in the training includes chest compression only CPR that was developed at the University of Arizona.
Producer: Heather Wodrich | Videographer: J Blain | Editor: Jennifer Fredericksen