Tucson Unified School District's governing board is taking outsourcing off the table for now, as it tackles a $17 million budget deficit.
In late January the board, on a 3-2 vote, directed TUSD staff to explore options for outsourcing jobs in janitorial and ground maintenance services, transportation, payroll and human resources.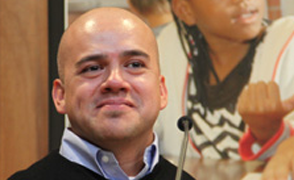 PHOTO: Fernanda Echavarri, AZPM
TUSD board member Cam Juarez.
Tuesday night, board member Cam Juarez changed his previous vote and asked the board to reconsider outsourcing. He thus joined board members Adelita Grijalva, Kristel Foster and Mark Stegeman in postponing an outsourcing study until March 12.
"I can no longer support outsourcing," he said. "We are moving too fast with minimal consideration for our employees."
In the next four weeks, the board wants employees in the departments that could be outsourced to write proposals for reducing costs.
"Nobody wants to lose their jobs," said board member Michael Hicks, expressing doubt about employees proposing cuts to their own departments. He was the sole vote in favor of studying outsourcing.
Previously proposed cuts include closing 11 schools, increasing class sizes and eliminating some librarians and counselors, among other positions.
These proposals are not final, and before TUSD can close schools, a federal judge overseeing a decades-long desegregation case must approve the move.