Last year, Arizona Spotlight brought you a series of radio stories from producer Bria Dolnick called New Americans. It's a way to share personal stories about the refugee experience from some of Tucson's newest residents.
Last semester at Catalina Magnet High School, Bria became the after-school mentor to a small group of teenagers who wanted to learn how to produce radio stories. The only thing the students had in common was that they were all international refugees.
Each of them were struggling with the usual range of teenage issues - while also facing huge cultural and personal transformations.
One of the students, Etongo Ekyoci, an 18-year old originally from Tanzania, produced this interview.
Stay with us in coming weeks to hear more from these young New Americans - who are finding their voices and sharing their stories.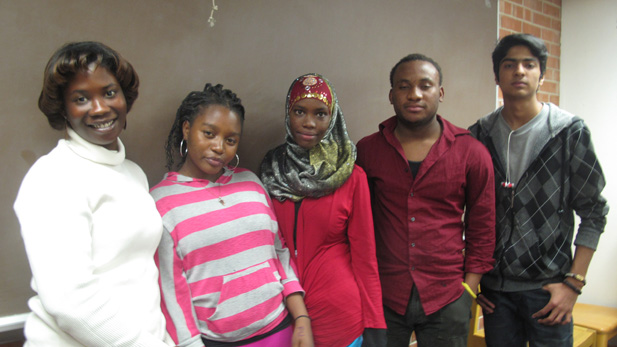 Catalina High School radio class (left to right): Sukay Slea, Frorasi Tuyizere, Khadra Issak, Etongo Ekyoci, Zaroon Nasir (PHOTO: Bria Dolnick)