(VIDEO: azpm)
Proposed expansion of Medicaid to provide health insurance for 240,000 more of Arizona's poor is testing philosophical positions and Arizona conservatives' basic mistrust of the federal government.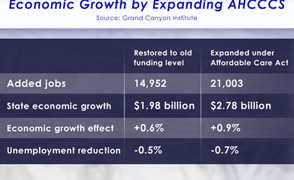 (PHOTO: Robert Jaime, AZPM)
Democratic legislators said in interviews for Friday's Arizona Week broadcast that they favor the expansion both for its effects on health care for the poor and the economy, while Republicans expressed a range of positions, from indecision to cautious, qualified support.
In Arizona, the federal Medicaid program is handled by the state under the Arizona Health Care Cost Containment System, or AHCCCS. Funding for AHCCCS has been cut several times in the last few years as the state faced a budget crisis, with some funding restored last year.
"What we have is a great speech on opening day," said House Speaker Andy Tobin, R-Paulden, referring to fellow Republican Gov. Jan Brewer's call for Medicaid expansion in her State of the State address. "She talked about, if we can just get these dollars to draw down federal dollars, boy, do the math, isn't this great."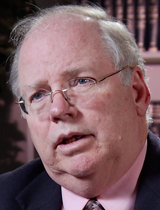 AZ House Speaker Andy Tobin, R-Paulden. (PHOTO: AZPM)
But Tobin said he and others in his party are worried about the federal government's commitment because of the big national debt.
"What they do is they put this little piece of bait in the fish bowl and hope to get a fish, and then they get a fish, but then all of a sudden they don't throw any more food in for the rest of them," Tobin said. "We're worried that they'll start cutting."
He cited several examples of what he said were federal programs that states have bought into only to find funding pulled away, including the Temporary Assistance for Needy Families program and Medicare reimbursements for doctors.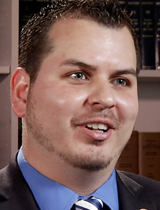 AZ Rep. Mark Cardenas, D-Phoenix. (PHOTO: AZPM)
"So we have no faith in the federal government," Tobin said. But he said he recognized that the state's health-care providers are suffering financial losses in having to provide uncompensated care to poor people, and thus he and others will look for ways to deal with it.
Democratic Rep. Mark Cardenas of Phoenix said he believes the expansion will pass.
"It's just good policy, because many of our rural hospitals are hurting because of uncompensated care," Cardenas said. "In addition, some of the lower income areas, which is one of the areas I represent, they are also experiencing budget shortfalls because of the uncompensated care.
"I believe that Medicaid expansion will go a very long way in turning that around," he said.
"I am taking a very steady approach," said Rep. Debbie Lesko, R-Peoria. She declined to commit to supporting the expansion, but said she recognizes there's an issue.
"We have a practical problem in that currently, people need health care; they're sick," Lesko said. " ... It's a problem we have to resolve. It's not going to be an easy problem."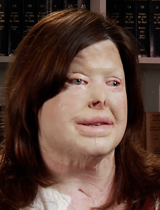 AZ Rep. Stephanie Mach, D-Tucson. (PHOTO: AZPM)
Rep. Stephanie Mach, D-Tucson, called passage "a no brainer." She, too, mentioned rural areas, saying they could face hospital closures if something isn't done soon.
Senate Majority Leader John McComish, R-Ahwatukee, said he thinks the measure will pass, giving it 60-40 odds.
One potential issue with Medicaid expansion is whether the fee that would be imposed on health-care providers to fund Arizona's portion of the match is considered a tax. If it is, both houses of the Legislature would be required to pass it with two-thirds majorities.
Whether or not that is the requirement, Tobin said, he wants two-thirds support for it in the House to protect everyone from blame.
"When the feds decide to say it's all over, do I have to now cut those budgets and be the bad guy?" Tobin said. " ... Remember we went through that a few years ago, and nobody wants to go back to where we were."