Professional baseball is coming to Nogales, Arizona. The Nogales Desert Ghosts will begin play this summer at War Memorial Stadium.
According to team officials, the Desert Ghost's roster will be made up of many Columbian ballplayers, some of whom have experience in the U.S. Minor Leagues.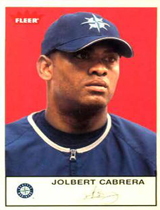 A 2005 Seattle Mariners baseball card for Jolbert Cabrera, now the new manager of the Nogales Desert Ghosts
The team also announced that Jolbert Cabrera will be team manager. A native of Caragena, Columbia, Cabrera played for several Major League organizations. He is the brother of noted pro player Orlando Cabrera and their father, Jolbert Cabrera, Sr., was a Major League scout.
The Nogales Desert Ghosts are part of the new independent American West Baseball League and will play at the AA level.
According to the AWBL website, the league also has new teams in Fullerton and San Marcos, California, and have signed an agreement with officials in Las Cruces, New Mexico to form a team there.
The new league was started in 2012, with the stated intention of operating in cities not served by Major or Minor League teams.
Nogales, until now, fit that bill. So will Tucson later this year. The AAA Tucson Padres are moving to El Paso after the 2013 season, leaving the city without a professional baseball team for the first time since 1968.