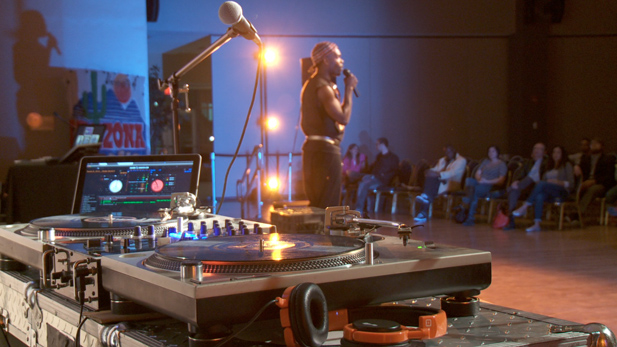 Anton Smith, founder of urban dance company "The Human Project" answers audience members' questions.
"Poetics and Politics of Hip-Hop Cultures" was the University of Arizona's first Hip-Hop Symposium. The symposium featured academic lectures by five Hip-Hop scholars February 7th and 8th, 2013. At night, people nearly filled the University of Arizona Ballroom in the Student Union to watch Hip-Hop dance, spoken word, dj turntable performances and a demonstration by a music producer. Each performer gave a short educational introduction to their work, and opened the floor to questions. Dr. Alain-Philippe Durand, Professor of French and Interim Director of the Africana Studies Program, created a new minor within the Africana Studies Program, with a concentration in Hip-Hop. Durand saw the symposium as a way to jumpstart academic dialogue.
Dialogue outside the university, on what the U of A has called the nation's first hip-hop minor, has been plentiful. Leading up to the symposium, the new minor was tweeted by Stephen Colbert, covered by the BBC, LA Times and covered by local print and television outlets. Some of the media coverage has not been positive. Durand says, of the criticism, that he invites everyone to the table to discuss.
In a small room in the Student Union, the scholars took turns presenting their lectures. A question and answer session followed each lecture, and scholars and audience members challenged each other on some of the tough issues of race, identity, culture and aesthetics. Several scholars presented global perspectives on Hip-Hop. Durand says few of his students realize Hip-Hop is so prevalent outside the United States, or that France is the world's second largest market for rap outside the U.S. Symposium speaker Dr. Halifu Osumare says "[Hip-Hop is] a global phenomenon that deserves academic inquiry, investigation, and scrutiny". Dr. Osumare is an Associate Professor of African and African American Studies at the University of California, Davis. The symposium was sponsored by the Confluencenter for Creative Inquiry.
Watch to see an academic perspective on the "Politics and Poetics of Hip-Hop Cultures".
Producer: Heather Wodrich | Videographers: Heather Wodrich, Jon Dineyazhe | Editor: Lauren Bays