Mining companies extracted nearly four million tons of uranium from Navajo lands between 1944 and 1986. The tribe banned mining of the radioactive ore in 2005. But an estimated 70 million tons of naturally occurring uranium still lies under tribal lands. And mining companies want to get at it.
According to the Farmington, NM Daily Times, some of those companies have approached the Navajo Nation recently, asking for permission to expand mining on Navajo land.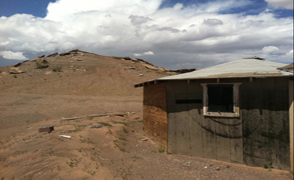 PHOTO: U.S. Environmental Protection Agency
A structure near an abandoned uranium mine site on the Navajo Nation
Many of the companies own mineral rights on land adjacent to the reservation. But they also want to expand operations onto tribal land. They propose building in-situ mines, where water and chemicals are injected into the ground to dissolve the uranium ore before pumping it to the surface.
The idea doesn't sit well with some Navajo environmental officials, who say federal and tribal governments are still dealing with more than 500 abandoned mine claims on tribal lands.
Studies have suggested that the old mines and their elevated levels of uranium caused health problems for workers and people living nearby. Meanwhile, a recent U.S. Environmental Protection Agency report says more than $100 million has been spent cleaning up tribal properties tainted by high levels of uranium.
Mining company officials say that won't happen again because they now use advanced technologies and take more precautions. They're looking at the reserves under the Navajo Nation and planning for a predicted rise in the markets, saying that as the demand for energy grows, so will the demand for uranium. Mat Leuras with Uranium Resources says as the demand for energy grows, so will the demand for uranium.
Additional resources:
EPA's Navajo Nation Uranium Contamination Program

See the EPA 2013 Navajo Uranium Contamination Report: View at Google Docs | Download File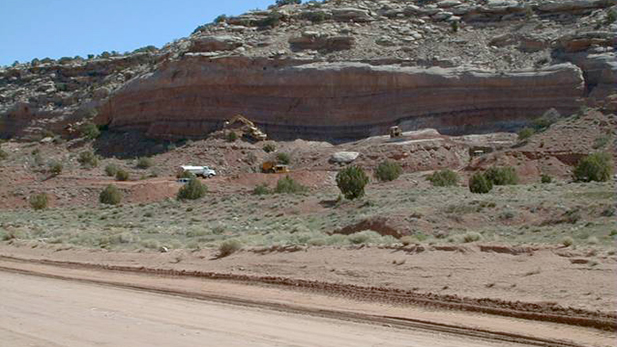 PHOTO: U.S. Environmental Protection Agency
Cleanup work at an abandoned uranium mine site on the Navajo Nation