Oral history projects have become increasingly popular. It seems a lot of people want to share and preserve their stories. Story Corps, one such example, has toured the U.S. with a mobile recording booth since 2003, capturing the lives of hundreds of ordinary people at each stop. Some of the resulting stories have aired on NPR. (The Story Corps booth is in Phoenix Feb 14-March 8.)
A similar project, called YOUR Arizona Experience, is devoted to telling the stories of Arizonans. Tales of family roots, of cherished places, and of what inspires them to stay in Arizona.
Randi Bellassai, of the Arizona Geological Survey, which is is overseeing YOUR Arizona Experience, talks about the effort to collect and archive the stories of Arizonans.
The project will operate a recording booth at the Tucson Festival of Books this weekend. Stories can also be submitted online.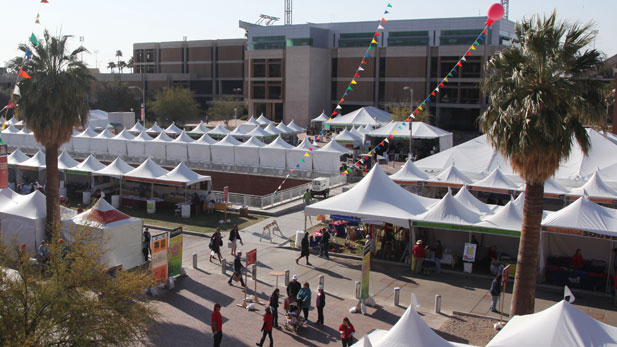 PHOTO: Robert Rappaport
Tents at Tucson Festival of Books, 2012