After calling Tucson home for almost 20 years, the French-born performer Marianne Dissard is moving on.
She's got plans in Palermo, Sicily. But she's making the most of her last few weeks in town. She's booked two upcoming shows called Adieu Tucson. And it will feature a slightly different side of Dissard.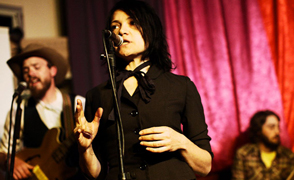 Marianne Dissard plays two farewell shows this month before leaving for Palermo, Sicily

Marianne Dissard
"I have a new band mate who's not from Tucson. He's from Seattle. And he comes from the world of hip-hop. And this is us meeting halfway between hip-hop and whatever it is I'm doing."
Asked to describe her own musical style, Dissard says "There's a strong tradition of chanson in what I'm doing, but it's also Americana, Tucson style. But it's tinged with Latin brass, Sergio Mendoza-type big band orchestra and things like that."
Of the French solo singing style chanson, Dissard says it has a "really heavy reliance on lyrics." Then she laughs. "Which is very ironic, because I sing in French and none of you are getting it."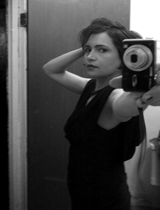 (PHOTO: Marianne Dissard)
Soon, Dissard will begin packing. Although she has plans to settle in Palermo, she admits she'll probably be commuting some between there and Seattle. And as for the city she leaves behind?
"Tucson has been home for 20 years and definitely every fiber of my being has been, you know, afflicted by it. But that's it. Life moves on."
This Saturday's show is also a benefit to help send a contingent of local musicians to the annual South by Southwest Music and Media Conference next week.
Dissard worked with the Tucson Music Factory to book two showcases. It will be her fourth trip to the venerable conference.
"And I swore this year that I would not go alone," she says. "So I wrangled up a lot of people from Tucson and made up two full showcase evenings for the festival. I basically called up the festival and said 'give me two nights. I gotta have my friends around.'"
Local musicians joining Dissard at South By Southwest include Giant Sand, Sergio Mendoza Y La Orkesta, Andrew Collberg, Tesoro, Gabriel Sullivan & The Taraf De Tucson, among others.
"Yes, I like to go out in style," says Dissard. "It's a big farewell gift, for sure. I've been helped by so many people out here. I see it as a give and take. You give, you take, you learn, you help the newer ones, the new generation. You get help by the older generation.
If I can do that to younger ones, I'll do it."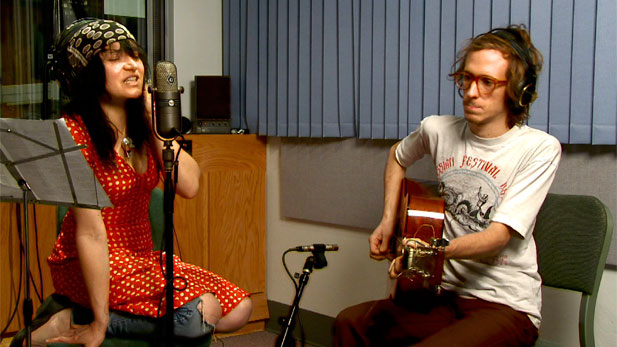 Marianne Dissard playing a "Spotlight Session" in the Arizona Public Media studios

AZPM