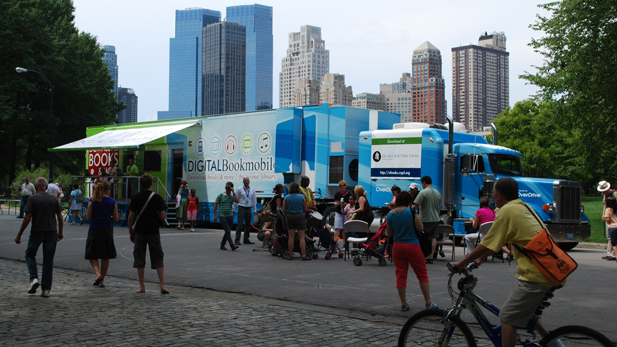 PHOTO: Courtesy of Digital Bookmobile
The Digital Bookmobile in New York City.
A customized tractor-trailer is making a stop at the Tucson Festival of Books this weekend as part of nationwide tour to promote digital books.
The Digital Bookmobile tours the continent teaching people how to check out eBooks from public libraries, how to download eBooks and audio books and how to use reading devices like iPads, Kindles, Nooks and Sony Readers.
"The truck features interactive work stations that let patrons browse their digital catalog," said Michael Lovett, a spokesman for Digital Bookmobile.
There is also a video lounge inside the semi truck where visitors of the Tucson Festival of Books can watch some videos available for free downloads.
Pima County Public Library uses OverDrive Inc. a digital distribution service that owns the Digital Bookmobile.