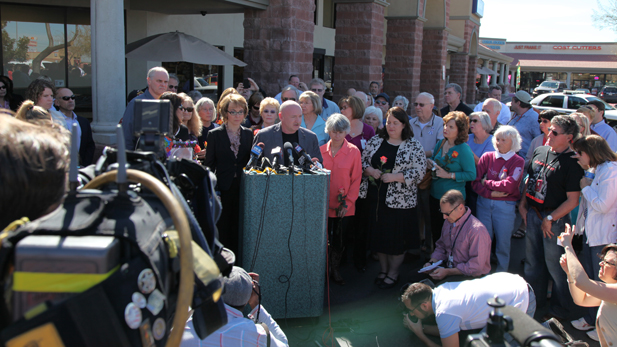 PHOTO: Christopher Conover, AZPM
Gabby Giffords and Mark Kelly hold a news conference outside Safeway. March 6, 2013
In the last week, Tucson groups have held news conferences and rallies on gun control featuring the victims of the Jan. 8, 2011 shooting. One news conference featured Gabby Giffords standing in front of the Safeway where the shooting took place.
While some may question the effectiveness off all of that, Jim Kolbe, a former Southern Arizona congressman says grassroots action does work.
"Members of Congress do respond to that. Now many of them have very strong views on one side or the other of this and won't be convinced by advertising. But I think grassroots is critically important and has been since the time of the founding of our country."
Kolbe says grassroots efforts are particularly effective when they try to strike a moderate tone.

Though Kolbe calls the recent gun control events in Tucson grassroots, this week's events are associated with big money. For example, Giffords and her husband Mark Kelly are behind the super PAC Americans for Responsible Solutions. Pam Simon and other victims of the Tucson shooting are part of New York Mayor Michael Bloomberg's Mayors Against Illegal Guns.