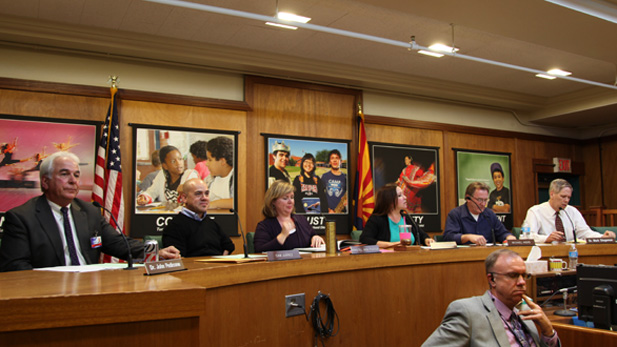 PHOTO: Fernanda Echavarri
Tucson Unified School District's governing board. (2013)
Tucson Unified School District's Governing Board voted 3-2 Tuesday to take outsourcing off the table as the district makes budget cuts elsewhere.
Earlier this year the district's chief financial officer, Yousef Awwad, suggested looking into outsourcing jobs in transportation, custodians, human resources and payroll.
A divided board originally gave the green light to explore outsourcing but at the following public meeting, board member Cam Juarez changed his mind, postponing the vote on outsourcing until March 12.
Board members Michael Hicks and Mark Stegeman voted to send out requests for purchase before making a final decision on outsourcing. Board President Adelita Grijalva and board members Kristel Foster and Cam Juarez said they could not support outsourcing.
"It isn't something that I would support now or ever, if we don't have any data that shows the cost-savings are significant long term," said Juarez.
Last month TUSD's request to close 11 schools was approved by the federal court. The closures are expected to save the district about $4 million.