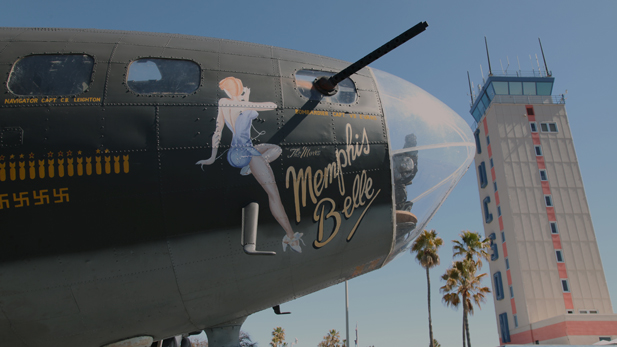 "The Movie Memphis Belle" parked at Tucson International Airport. March 2013 (PHOTO: Christopher Conover, AZPM)
Seven decades ago, the crew of the B-17 Flying Fortress known as the "Memphis Belle" completed its 25th mission. When the wheels of the big bomber touched down in England it marked the first time an American aircrew had completed 25 bombing runs.

The accomplishment earned each member of the crew a Distinguished Flying Cross, a trip home for a War Bonds tour, and a War Department documentary. But over time, memories faded.

In 1990, Hollywood released the movie "Memphis Belle" once again retelling the story. The flight scenes for the movie were shot in a real B-17, an aircraft now known as "The Movie Memphis Belle". That plane is in Tucson on an education tour for the Liberty Foundation.
None of the B-17s flying today is a combat veteran said "The Movie Memphis Belle" pilot Bob Hill. When surplus planes were sold after World War Two nobody wanted the used aircraft, buyers wanted new ones.
"So you and I show up at the storage depot and we can either buy the World War Two veteran which is all patched up with holes from flak and bullets." Hill said, "We can buy a brand new airplane that got flown to the storage depot."
"The Movie Memphis Belle" was pressed into service dropping water-instead of bombs-on wildfires until the 1980s. At that time the aircraft was bought and restored.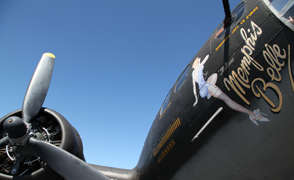 Twenty-five bombing runs. (PHOTO: Christopher Conover, AZPM)
Even though the plane is not a combat veteran, its presence does attract World War Two combat vets.
Col. Richard Bushong was a B-17 and B-24 pilot in World War Two. In March of 1944 he piloted a B-17 in the first daylight raid of Berlin. During the War he flew seven different B-17s in combat. He says he liked the B-17 because it was stable in the air and could take a beating.
" (We) never came home without holes, sometimes a lot." Bushong said, "I jumped out one day and stepped back about 15 steps and stood there counting the holes. I counted 123 holes without ever moving."
Bushong stayed in the military through the Vietnam War, eventually logging time in 43 different aircraft.
" I flew at hover in a helicopter and I flew an F-4 at Mach 2.1" he said.
Col. Bushong visited "The Movie Memphis Belle" just a week before his 90th birthday.

A few years ago he was able to pilot another B-17, "Liberty Belle", thanks to his work at the 390th Memorial Museum at the Pima Air and Space Museum. He is still a docent at the museum.. "come see me on Thursdays."
Meanwhile, "The Movie Memphis Belle" is getting ready to head back to the silver screen. This summer she will star in a movie about the 8th Air Force being put together by Steven Spielberg and Tom Hanks.